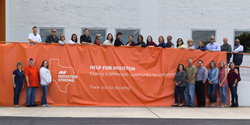 McConnellsburg, Pa. (PRWEB) September 26, 2017
More than 60,000 pounds of supplies and food were recently delivered to victims of Hurricane Harvey in Texas, thanks to relief efforts organized by JLG Industries, Inc., an Oshkosh Corporation company [NYSE:OSK] and a leading global manufacturer of aerial work platforms and telehandlers.
Working with local communities, the company coordinated drives at its Hagerstown, Maryland, and Bedford, McConnellsburg, and Shippensburg, Pennsylvania, facilities to support Hurricane Harvey flood victims. More than 100 JLG employees volunteered time to work shifts so members of those communities could make donations of personal care items, food and beverages, baby care products, and other needed items, such as blankets, pillows, flashlights, batteries, games, toys, undergarments, and socks.
"Our thoughts are with those in Texas who have been affected by Hurricane Harvey," said Frank Nerenhausen, Oshkosh Corporation executive vice president and president, JLG Industries. "We recognize that many of the people in the communities in which we live and operate want to help. Providing a donation drop-off point locally helped us reach out to impacted families during this challenging time. We are very proud and appreciative of our employees, who have come together in the spirit of our people first culture to support those in need."
In addition to donations made by more than 200 individuals and community organizations, JLG and Jerr-Dan – another brand in the Oshkosh access equipment segment – purchased additional items to fill three tractor trailers bound for the Houston Food Bank, part of Feeding America. Victims of Hurricane Irma are also receiving aid from JLG sister segments in Oshkosh, whose Feeding America donations will be delivered to Florida later this month.
For information about JLG®, please visit http://www.jlg.com.
About JLG Industries, Inc.
JLG Industries, Inc. is a world-leading designer, manufacturer and marketer of access equipment. The Company's diverse product portfolio includes leading brands such as JLG® aerial work platforms; JLG and SkyTrak® telehandlers; and an array of complementary accessories that increase the versatility and efficiency of these products. JLG is an Oshkosh Corporation company [NYSE: OSK]. For more information about JLG Industries, Inc., visit http://www.jlg.com.
About Oshkosh Corporation
Founded in 1917, Oshkosh Corporation is 100 years strong and continues to make a difference in people's lives. Oshkosh brings together a unique set of integrated capabilities and diverse end markets that, when combined with the Company's MOVE strategy and positive long-term outlook, illustrate why Oshkosh is a different integrated global industrial. The Company is a leader in designing, manufacturing and servicing a broad range of access equipment, commercial, fire & emergency, military and specialty vehicles and vehicle bodies under the brands of Oshkosh®, JLG®, Pierce®, McNeilus®, Jerr-Dan®, Frontline™, CON-E-CO®, London® and IMT®.
Today, Oshkosh Corporation is a Fortune 500 Company with manufacturing operations on four continents. Its products are recognized around the world for quality, durability and innovation, and can be found in more than 150 countries around the globe. As a different integrated global industrial, Oshkosh is committed to making a difference for team members, customers, shareholders, communities and the environment. For more information, please visit http://www.oshkoshcorporation.com.
®, ™ All brand names referred to in this news release are trademarks of Oshkosh Corporation or its subsidiary companies.
Forward Looking Statements
This news release contains statements that the Company believes to be "forward-looking statements" within the meaning of the Private Securities Litigation Reform Act of 1995. All statements other than statements of historical fact, including, without limitation, statements regarding the Company's future financial position, business strategy, targets, projected sales, costs, earnings, capital expenditures, debt levels and cash flows, and plans and objectives of management for future operations, are forward-looking statements.
# # #