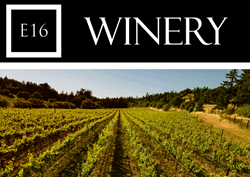 "Great wines start with attention to detail in vineyards expressing a silent covenant between their climate and soils." — Founder, Robert Jones
Somerset, CA (PRWEB) September 27, 2017
E16 Winery is pleased to announce the grand opening of their brand new tasting room, located in El Dorado County California. To mark the event, E16 will celebrate, offering wine tastings along with complimentary hors-d'oeuvres and live music.
Atop the hills of Somerset, E16 brings to the table a young, edgy rendition of family traditions. Robert Jones, founder and third-generation winegrower, planted his roots in the business at a young age helping his grandfather in the surrounding vineyards. An honor to the family legacy, E16 Winery is dedicated to the art of crafting fine wine.
Location
"Great wines start with attention to detail in vineyards expressing a silent covenant between their climate and soils." — Founder, Robert Jones
Discovered in the late 1840s; El Dorado County is a wine region located in northern California that is famous for its distinct Rhône varietals grown in the dramatic elevations of the Sierra Foothills. One of the California's oldest wine-producing areas, vineyards and wineries were first established during the Gold Rush Era. Today, over 70 wineries span across the region with wines as diverse as the terroir.
Visitor's Experience
The tasting room offers wines from the winery's two labels, E16 and Firefall. E16 wines are composed of critically acclaimed Pinot Noir, Barbera, and Chardonnay from some of California's most renowned vineyards. Showcasing varietals from the Fair Play AVA, Firefall features Zinfandel, Syrah, and Grenache Blanc. E16 invites guests to expand their palate while learning about the region's diverse history.
Visitors are welcome in the front tasting room; an urban-zen sanctuary filled with natural light, sleek polished cement floors, and an indoor waterfall with LED lights symbolizing a natural firefall. E16 club members are exclusively invited to relax in a country-chic, 65-foot subterranean wine cave decorated with chandeliers, rustic oversized leather couches, and a historic cherry wood bar from 1910, Milwaukee, Wisc.— a real stand-alone piece. Captivating a sense of exclusiveness with nothing but the utmost inclusive demeanor, guests can lounge in one of the many tasting areas, experience a private cave tasting, or venture outside to the wraparound terrace.
Pamper your senses with gracious hospitality in an atmosphere of casual elegance paired with the flavors and aromas of award-winning E16 wines, located at 8085 Perry Creek Road, Somerset, CA 95684, open Friday-Sunday 11 a.m.-5 p.m.
Tastings
$10 person | Front Tasting Room
$15 person | Private Cave Tastings (by appt. only)
Tasting Fees will be waived with the purchase of any wine.
Overview of E16's New Wine Tasting Room
Who - E16 Winery - Owner Robert Jones - Winemaker - Daniel Moore
What - New wine tasting room in Somerset, CA
When - The tasting room will be open to the public as of October 14, 2017
Where - 8085 Perry Creek Rd., Somerset, CA 95684
Reservations - Can be made by visiting e16wines.com or calling (530) 620-6200 or emailing robin(at)e16wines.com
###
E16 Winery
Encompassing an extensive wine portfolio, E16 successfully highlights the unique traits of varietals from a wide range of California's appellations. Together, the E16 winemaking team partners with grape growers who share a commitment to sustainable viticulture and devotion to the fruit's inherent varietal expression. Woven with a passion for excellence, E16 wines reflect a true sense of passion and place.