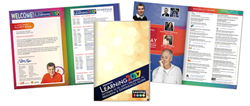 Saratoga Springs, NY (PRWEB) September 26, 2017
The complete Learning 2017 Program Guide is now available online at https://www.learning2017.com/guide
Learning 2017 will take place from October 22-25 at Walt Disney World in Orlando, Florida. There are currently 1,517 learning colleagues registered from around the world.
Former First Lady Michelle Obama is just one of the over 16 keynote speakers, who will interactively explore the innovation and change in learning approaches, analytics, and user targeting.
Joining the Former First Lady are these keynote speakers: John Lithgow on storytelling; engineer and author Christine McKinley with "Physics for Rock Stars"; Julian Stodd on Social Leadership; IBM Watson; Andrea Wong from Google on User Experience (UX); Richard Culatta on Innovations and Compliance; Nigel Paine on Learning Leadership; and performer and songwriter Val Vigoda with a new song about learning that she has written specifically for the conference.
There are over 190 learning activities, sessions, and labs that involve benchmarking with major corporations and government agencies on changing approaches to learning and workforce development. Learning 2017 will feature these and other activities: Escape Room and Gamification LABs; a Learning Readiness LAB for Cyber, Weather, Terror, and Other Emergency Situations; MIT's Brain Science LAB Experiment; the TED Idea Accelerator; and LearningTown Connections cultivated through both the LearningTown app and real-time connections onsite.
View or Download the Program Guide at: https://www.learning2017.com/guide
Complete information about the over 190 sessions and activities is now live at https://www.learning2017.com/guide. Advance Registration and Group Discounts are still available.
Learning 2017 is celebrating its 27th anniversary! It is produced by The Learning CONSORTIUM, a collaborative of 230 global corporations, focused on improving workplace learning and training. Hosted and curated by Elliott Masie, Learning 2017 brings together several thousand learning professionals as they focus on the changing nature of workplace education and development.
Content and online registration at https://www.learning2017.com