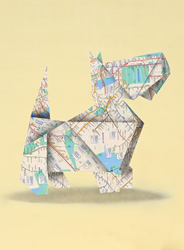 "My art features the use of mixed media and acrylic spray paint to create paintings of origami objects such as my classic Scotty," said Lenny Achan. "These objects remind me a more innocent time."
New York City (PRWEB) October 09, 2017
New York, NY, September 18, 2017 -- Lenny Achan debuted his solo exhibition entitled "City Slickers" at the Cornelia Street Café in New York City. His show, a mixture of street art and graffiti, along with geometric dimensions -- showcase objects that are whimsical in nature and reminiscent of childhood. The show opened with a reception on September 12 and runs through October 30.
"My art features the use of mixed media and acrylic spray paint to create paintings of paper boats and planes, as well as animals and as in this show, origami dogs such as my classic Scotty," said Lenny Achan. "These objects remind me of my childhood in Brooklyn and Queens during a time that was much more innocent. I hope when others come in contact with my art, it makes them happy or sets them into positive action for themselves or others"
In this exhibit, the pieces, such as his Scotty or pigeon, are created out of subway maps and made into origami which is then "cut and put back together like a jigsaw puzzle." He uses transparent acrylic spray to shadow and seal the subjects resulting in what looks like three dimensional figures coming off the canvas. This particular style, he calls "MapWorks" uses transparent spray paint on the cut and placed edges to create dimension."
"My love of street art and graffiti, as well as my love of math and science, play a role in my art," said Lenny. "The objects are also very typically New York, and sometimes whimsical, so I bring all this together for a final product."
Lenny Achan was born in Brooklyn, New York in 1976. He is an artist, inventor and entrepreneur who combines all of the experiences of his highly matrixes life into works of art. His style was shaped by growing up in NYC as a street artist in the early 1990's and was influenced by current artists like Luis Zimad Lamboy, a long time mentor and friend. Luis, who Lenny met at age 16, encouraged him to explore his artistic abilities beyond lettering and graffiti.
"The show is incredible and the pieces are beautifully done," said Luis Zimad Lamboy who joined over a hundred art buffs for the opening at the Cornelia Street Café opening. "I have seen Lenny transition from paint only to using multimedia such as the MTA map to create his objects. What is genius about his technique is that he came out as a stencil artist on paper, and then he created a new style of origami collage that has never been seen before."
"There is real sensitivity in the light and dark – in terms of the actual composition of positive and negative," said Rena Sussman an Adjunct Associate Professor of Fabric Styling at the Fashion Institute of Technology in New York. "The placement of the objects are so elegant and at the same time humoristic. The art is so playful and sophisticated." Rena came to the opening with Luis Zimad Lamboy who she says was in her class over thirty years ago.
Cornelia Street Café owner Robin Hirsch has a different art show every month. In fact, over the years, the café has presented an enormous variety of artists including artists, performers and singers. "Achan's show is so New York City specific which makes it a natural for the Cornelia Street Café," said Hirsch. "It's also a wonderful contrast to the French water colors we have in the front of the house."
"Achan's work has a large draw not only to private collectors but has also begun to catch the eye of commercial spaces like restaurants, hotels and corporate spaces which are all focused on their consumers experiences while engaging with their brands. Over the last two years his sculptured paintings have rarely lasted 24 hours during his exhibits," said Ralph Maldari, who is an instructor of Hospitality and Customer Relationship Management at New York University.
Achan's philosophy of art is that it exists to be the world's most free form of communication. In fact, as a child he never thought his writing or verbal communication was specific enough so he tried drawing as a way to compensate.  His drawings became the cover page of his grade school reports and his drawings are known to anyone who has worked with him in his professional life as a healthcare executive and entrepreneur.
"Art in all forms is a powerful vehicle for disruptive innovation, not in a negative way, but to influence the positive change of mental models in the world today," said Achan.  "I hope my work is seductive enough to allow for a new and refreshing way to look at the world." 
Achan, a Nassau County based artist originally from Queens is a healthcare executive and entrepreneur.  He is currently the Chief Innovation Officer (CINO) at Hospital for Special Surgery in NYC and formerly Chief Marketing and Communications Officer and Chief of Access Services for the Mount Sinai Health System in New York City, where he was also Senior Associate Dean for Global Communications, branding and reputation at the Icahn School of Medicine at Mount Sinai.  
He says business development, art, photography and innovation are all in the same mediums in which he has learned to express his highly matrixed life experiences.
To see the art, go to: http://www.lennyachan.com/store/
Achan's biography: http://www.lennyachan.com/achan-bio/