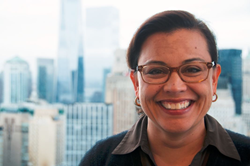 It is that consistent focus on partnership with educators to improve learning outcomes where Susan exemplifies the leadership attributes we need for the future.
(PRWEB) September 27, 2017
Macmillan Learning, a premier educational solutions company, today announced the appointment of Susan Winslow as General Manager of their academic business. Ms. Winslow will oversee the higher education and AP high school division including the content, digital product development, custom services, marketing, communications, training and professional development teams. Ms. Winslow will report to CEO Ken Michaels.
Commenting on her appointment, Mr. Michaels said, "In order to keep pace with the shifting demands of our customers, it is vital that we have strong, innovative leaders that can guide us into the future. Susan possesses a unique ability to bridge strong pedagogical and digital engagement to the analytics needed by our customers. It is that consistent focus on partnership with educators to improve learning outcomes where Susan exemplifies the leadership attributes we need for the future. She embodies our mission of improving lives through learning."
"The open and changing landscape in education is incredibly exciting to me," said Ms. Winslow. "With our team's talent and experience in content creation and software development, we are creating products and services that are practical for today's instruction and will ultimately lead to more productive outcomes."
Ms. Winslow brings more than 26 years of educational publishing experiences to this role. Formerly, as Managing Director at Macmillan Learning, Ms. Winslow drove the new content and product development program resulting in marked company growth, particularly in digital product adoption across the Humanities, Social Sciences and STEM disciplines. As Vice President of Marketing, she directed the creative, promotional and digital strategies for the higher education group and spearheaded new digital product brands. As a senior leader in the organization, Ms. Winslow also led the teams through the reorganization and unification to one higher education division.
Ms. Winslow previously served as Publisher of the Life Sciences group where she was responsible for the content and digital publishing strategy governing life science materials at Macmillan, including teaching and learning resources for higher education and professional development for teachers and researchers. She oversaw the development of market-defining products that pioneered integration of print, media and assessments aligning together seamlessly to achieve a set of desired outcomes for students. She has been a long-time champion of STEM education as evidenced by her sponsorship of their annual STEM Executive Summit in partnership with Scientific American, and of EdFOO, an un-conference created in partnership with Google and O'Reilly Media. Both events are meant to unite leaders across industries to focus on challenges and opportunities in STEM education. Prior to joining Macmillan, Ms. Winslow held senior positions at Pearson in Sciences and Global Marketing.
"Susan's experience in prior roles in multiple disciplines, geographies, and businesses has fueled her success," said Mr. Michaels. "That flexibility and vision is key in an evolving marketplace."
"At Macmillan, our teams work together every day to apply our unique combination of learning science research, empirical insights, and user-center design to ensure that what we offer truly addresses educational pain points of affordability, retention, and diversity," noted Ms. Winslow. "It is such an interesting and pivotal moment in education and it is a privilege to lead through these changing times."
Macmillan Learning includes academic and institutional divisions.
# # #
About Macmillan Learning:
Macmillan Learning improves lives through learning. Our legacy of excellence in education informs our approach to developing world-class content with pioneering, interactive tools. Through deep partnership with the world's best researchers, educators, administrators, and developers, we facilitate teaching and learning opportunities that spark student engagement and improve outcomes. We provide educators with tailored solutions designed to inspire curiosity and measure progress. Our commitment to teaching and discovery upholds our mission to improve lives through learning. Macmillan Learning includes both academic and institutional divisions. To learn more, please visit http://www.macmillanlearning.com or see us on Facebook, Twitter, LinkedIn or join our Macmillan Community