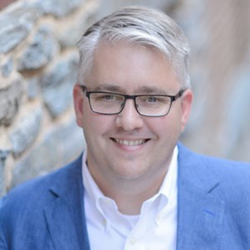 Associations need to leverage digital marketing to help grow membership and non-due revenue
(PRWEB) September 27, 2017
HighRoad Solution today announced it has expanded its executive team, naming Dave Martin as Chief Operating Officer (COO). Martin brings over 20 years of marketing and operations experience to HighRoad Solution and will oversee the professional services team responsible for implementing marketing technology platforms, as well as expanding the not-for-profit marketing consulting services practice.
"HighRoad Solution has evolved into the only digital agency specifically focused on implementing marketing technology for associations," explained Ronald McGrath, CEO and Co-Founder. "The addition of Dave Martin to our leadership team is a reflection of our agency's growth, as well as a renewed commitment to the association market to provide exceptional digital marketing services that help organizations gain insight and grow revenue."
Martin joins HighRoad Solution from Aptify where he served as Chief Marketing Officer since 2015. Martin grew Aptify's marketing and sales pipeline 351% by employing digital marketing best practices utilizing marketing automation platforms. Before joining Aptify, Dave served as the Vice President of Marketing & Content for the Electronic Retailing Association (ERA) for seven years. In this role he was responsible for all marketing activities for both member acquisition and retention.
"Digital marketing is changing rapidly and members' expectations are higher than ever," stated Dave Martin. "Associations need to employ digital marketing software along with best practices to capture the hearts and minds of their members. I am passionate about not-for-profit organizations and I want to bring my experience directly to them to help them succeed."
Earlier in his career, Dave worked in global telecommunications marketing, product management, and product development both in the United States and Europe. He spent two years in Sweden, one year in Belgium, and three years in Spain. Dave has a BA from the University at Buffalo, a MIA from Columbia University, and a MA from the Katholieke Universiteit Leuven in Leuven, Belgium.
About HighRoad Solution
HighRoad Solution is the only digital marketing agency endorsed & used by ASAE. Offering services to implement and integrate leading marketing technology platforms, as well as development of software solutions that fit the unique marketing and communication needs of associations. Clients choose the HighRoad for its consulting expertise and client-partnership approach.
###