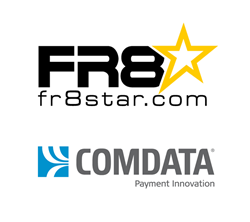 We are focused on helping small carriers make more money by removing the obstacles to getting paid. As a platform, we bridge the gap between carriers and shippers, to guarantee instant payment for carriers while still protecting shippers. Everyone wins. - Matt Kropp, CEO of FR8Star
Oakland, CA (PRWEB) September 27, 2017
FR8Star has partnered with Comdata, a FLEETCOR company, to bring instant mobile payment to carriers using FR8Star's platform, FR8Star.com. With Comchek® Mobile, an innovative digital platform designed to transfer funds between companies and individuals in the trucking industry quickly and securely, carriers booking loads through fr8star.com can now receive fuel advances at pick-up and instant payment in full upon receipt of the electronic POD.
Comchek Mobile users hauling loads booked on FR8Star.com can now receive full payment immediately after Proof of Delivery is received. Users can access funds instantly via their Comdata Card and the easy-to-use Comchek Mobile app. For more information about Comchek Mobile, visit http://www.comdata.com/comchekmobile.
Typical payment cycles for hauling freight today are 30 days. This current model holds carriers responsible for managing their operating costs while awaiting payment for work already done and following up on overdue payments.
FR8Star's solution removes these pain points and eliminates the need for costly freight factoring (factoring fees range from 1.5 to 5 percent of linehaul revenue). By guaranteeing pay to carriers for loads booked through fr8star.com and issuing payment instantly upon receipt of electronic POD, carriers can trust that they will get paid for their work on timelines that align with their operating costs.
The partnership between FR8Star and Comdata will have an especially positive impact on smaller carriers who rely on freight factoring to keep their businesses running smoothly before receiving payment from the shipper or broker.
"We are focused on helping small carriers make more money by removing the obstacles to getting paid," said Matt Kropp, CEO of FR8Star. "As a platform, we bridge the gap between carriers and shippers, to guarantee instant payment for carriers while still protecting shippers. Everyone wins."
About FR8Star
The FR8Star marketplace (http://www.fr8star.com) is the best place for shippers to book carriers to move their flatbed and oversize/overweight loads and for specialized carriers to book fast-paying, high-value loads direct from shippers. FR8Star's suite of tools for carriers include the FR8Star marketplace where carriers can bid on live direct shipper loads, a patent-pending rate calculator that factors in all third party costs associated with moving a load and facilitates route planning, real time load tracking and automated paperwork management on awarded loads. For more information, visit http://www.fr8star.com.
About Comdata
Comdata Inc., a FleetCor company, is a leading provider of innovative payment and operating technology that drives actionable insights from spending data, builds enhanced controls and positively impacts its clients' bottom lines. The company partners with more than 30,000 businesses to better manage $55B in annual fleet, corporate purchasing, payroll and healthcare spending, making it one of the largest fuel card issuers and the second largest commercial MasterCard provider in the United States and Canada. Founded in 1969 and headquartered in Brentwood, Tennessee, Comdata employs more than 1,300 professionals across North America. To learn more about Comdata, Inc., visit http://www.comdata.com.