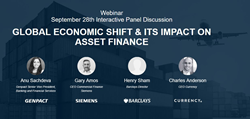 "We want to thank each of our panelists for joining the CEMC to share with us their thoughts on the economy and the implications for our burgeoning industry and asset finance as a whole," said Charles Anderson, CEMC Executive Director, and CEO of founding sponsor Currency Capi
LOS ANGELES, CA (PRWEB) September 27, 2017
CEMC (Commercial Equipment Marketplace Council), a leading executive think-tank of senior corporate leaders in equipment financing, today announced that they will be hosting panelists from Siemens, Barclays and Genpact to discuss the impact that shifts in the US and Global economies may be having on Fintech and asset finance.
Presenters include Gary Amos, CEO Commercial Finance Siemens; Anu Sachdeva, Genpact Senior VP, Banking and Financial Services; Henry Sham, Director, Financial Institutions, Investment Banking and the web seminar will be moderated by Charles Anderson, CEMC Executive Director and CEO of Currency Capital.
This handpicked group of senior executives will each weigh in on the following topics:

The State of the Global Economy
US Economic Shift
The impact on the Finance Industry
& what this all means for Fintech & Asset Finance
"We want to thank each of our panelists for joining the CEMC to share with us their thoughts on the economy and the implications for our burgeoning industry, asset finance and asset purchase as a whole," said Charles Anderson, CEMC Executive Director, and CEO of founding sponsor Currency Capital.
This is the CEMC's first webinar event since its inagural Innovation Summit at the Ritz Carlton Laguna Beach. Scott Cohen, Chairman of the CEMC and Executive Director of Currency, commented, "The CEMC has really come into its own in 2017. We had a great turn-out at the Innovation Summit and the CEMC charter is clearer than ever. Members from across the organization are sharing insights, contributing articles, speaking at events and investing sponsor dollars because they see the importance of having a group of senior corporate leaders and senior technologists working together to thrust asset finance into the future."
The CEMC East Coast Executive Round Table is also just around the corner. Scott continued, "In addition to our kicking off our webinar series, the CEMC will have its second annual East Coast Round Table at the Yale Club in NYC on December 7th. The is an invitation only event and will be one day after the CFA's Digitally Enabled Lending Event, NYC."
About CEMC
CEMC is a community of corporate practitioners in equipment financing. Its charter is to create a forum in which industry executives can get the insight, interaction, and information they need to make good business decisions. Established in 2016, CEMC provides capital providers, online equipment sellers and equipment industry leaders and practitioners with educational seminars, benchmarking surveys, group workshops, an annual Summit and retreat, white papers by expert faculty, a professional networking web site, and regional working groups.
CEMC's founding sponsor is Currency Capital.
For more information about CEMC membership or otherwise, please visit http://www.cemcouncil.com
About Currency
At Currency, we're changing what's possible in the equipment finance marketplace. Our mission is to automate the equipment funding ecosystem so businesses can achieve financing simplicity. Every day we work together to originate, process and close high-quality transactions through an ecosystem of buyers (providing instant, competitive options), sellers (enabling them to sell more equipment) and banks (delivering cost-efficient access to deal flow).
On the heels of the Great Recession, businesses around the country found themselves left behind. Commercial banks just weren't lending, and when they were, the delays between application and funding were far too long. So a group of financial experts, along with a few tech wizards, decided to take action. We engineered a technology that streamlined both approval and funding by getting a more complete financial picture at the beginning of the application process. The result was Currency, and since then we've helped support businesses with more than $500 million in loans. For information, visit http://www.currencycap.com.
For more information about CEMC membership or otherwise, please visit http://www.cemcouncil.com.