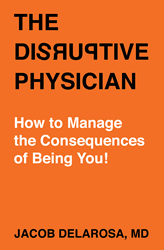 Dr. Jacob DeLaRosa has authored an extremely relevant book for health care professionals who are at risk of being labeled "disruptive" in any of their professional associations.
New York, New York (PRWEB) September 27, 2017
Many healthcare providers have never heard of the term "Disruptive Behavior" as it relates to mainstream medicine. Very often, the first exposure to this term is when a physician finds themselves accused of this behavior. It can be very alarming, shocking, depressing and can cause the physician to lose focus on what he does best...help his patients. In most cases the physician really doesn't understand why he/she has been so labeled, and desires to find out why. What was needed was a discussion on the term, and a game plan to alleviate the problem.
Dr. Jacob DeLaRosa has written a book that will provide an immense amount of help to any healthcare provider that finds themselves, or their staff, dealing with the accusation of being a "Disruptive Physician". Fans of Dr. DeLaRosa's books will not be disappointed. His latest book, "The Disruptive Physician - How to Manage The Consequences of Being You" has already garnered many accolades from the medical community.
During a recent interview, Dr. DeLaRosa made these comments: "After you have read this book, you will have a thorough understanding of what it means to be a disruptive physician. In addition, if you find yourself or others going down this path, this will be a guidebook to traverse the journey. I provide all the tools, resources, and information you need to succeed." In his extensive research for this book, he found many articles addressing physician disruptive behavior. What was missing was the perspective from a practicing surgeon and what it feels like if you have to go through the process of being termed a disruptive physician.
"The Disruptive Physician" is a step-by-step guide to avoiding being termed a disruptive physician and if you have already, what to expect and how to deal with it. Readers will learn about the three major forms of Physician Disruptive Behavior: Aggressive, Passive Aggressive and the most common, Passive. Many doctors don't realize that by simply being themselves, with no nefarious intent, they can find themselves on the receiving end of such an accusation.
Reader Testimonials have been phenomenal. Take a look at what Mark Stahlhuth, Ph.D., Clinical Director of Seasons Recovery Centers, in Malibu, CA., had to say: "Dr. Jacob DeLaRosa has authored an extremely relevant book for health care professionals who are at risk of being labeled "disruptive" in any of their professional associations. He lays the foundation for such a description through meaningful examples and scenarios. He makes it possible for one who is being confronted with such an accusation to work through the process with information and exercises that help clarify the issues with an ability to forego the shame that tends to feel all too incapacitating for most."
For complete information, please visit: https://www.thedisruptivephysician.com/