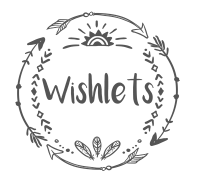 Baton Rouge, LA (PRWEB) September 28, 2017
Wishlets, a motivational wish bracelets company based in Baton Rouge, La., announced today that it has made and sold more than 6,000 wish bracelets online with more still to come.
"A wish bracelet is an item of jewelry, made with cotton strands and a tiny silver star charm," said Megan Robbins, owner and spokesperson for Wishlets. "It allows you to make a wish when you tie it on and receive your wish when the bracelet falls off."
Robbins went on to explain that a wish bracelet is usually tied in three knots. Each knot represents a wish.
"The bracelet must be left on until it falls off on its own," Robbins said, before adding, "every time you look at your bracelet, you will be reminded of the wish you made. While you are wearing the bracelet, you must think positive and visualize the things you want in order to attract the desired results."
Robbins, who has been hosted on the Etsy Conversations podcast, and featured in two different subscriptions boxes, and a variety of industry publications, noted that each wish bracelet comes in a high quality clear jewelry bag.
"These are the perfect size to be put into envelopes, given out as party favors, or perfect small gifts," Robbins said.
Wishlets, which has more than 550 positive reviews on Etsy, features products, such as its "I'm About to Slay Wish Bracelet" that's available in a multitude of colors. "Our unique handmade bracelets are made to order, and feature an adorable silver star charm," Robbins said. "Each card features the text "I'm about to slay" in a beautiful cursive font. Our wish bracelets are a unique and affordable gift for friends and family."
As to how customers rate Wishlets, one customer identified as Azlynn, in a customer review on Etsy, described it as the perfect gift for his girlfriend. But he's not the only satisfied customer. Lanae described Wishlets as having "super great communication and super-fast shipping." In addition, Carrie Berg, in her review, said "it was exactly what was described and came quickly."
To buy elegant bracelets online, please visit http://wishletswishbracelets.com/shop. Visit Wishlets blog at https:wishletswishbracelets.com/blog/.
About Wishlets
Wishlets is a company that's passionate about female empowerment, motivating others, and helping others see their potential. Our hope is that our wish bracelets inspire women and girls to be themselves, enjoy life more, and reach for their goals. Here's how: When you put on a wish bracelet you make a wish, while wearing it you work towards that wish, and by the time your wish bracelet comes off your wish will have come true due to your hard work and believing in yourself. Wish bracelets are a fun way to encourage, excite, and reward your team mates, guests, and yourself.
Contact Details:
Megan Robbins
Phone: (225)-324-5618
Email: wishletswishbracelets(at)gmail(dot)com
Source: Wishlets