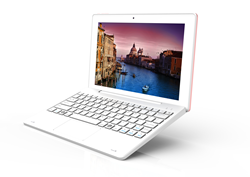 We see access to a home computer for children as one more step on their way to success and we hope having this access will inspire and empower them
Fremont, CA (PRWEB) September 27, 2017
Today Tanoshi, a Silicon Valley computer company, and iFoster, a non-profit organization that provides resources to children raised in foster care, announced a partnership in a joint effort to bridge the technology gap that impacts foster children in the US. With a mission to help close the opportunity gap within underserved communities, Tanoshi has launched its new fun, educational and affordable 2-in-1 computer through a Kickstarter campaign. The nationwide crowdfunding initiative allows backers to fund the production of new Tanoshi computers, including units that will be donated to children in foster care through the iFoster program.
Youth in foster care have significantly lower access to computers at home than their peers. While 90% of youth in the U.S. in general and 79% of low-income youth have access to a computer at home, for urban foster youth at home access is just 21%, and for rural foster youth it is only 5%.
Being a national non-profit with a mission of providing life changing resources to children growing up in foster care, iFoster bridges the child welfare system with corporations, foundations, organizations and individuals who can help children succeed. Providing computers to foster youth is an area where iFoster is leading the way and making a huge difference in the foster care community.
Tanoshi 2-in-1 is an Android-based computer (tablet + detachable keyboard) that was created as a solution to provide a fun, affordable, reliable and age-appropriate device specifically designed for children ages 6-12. The team behind Tanoshi is aiming to help kids learn computer skills early on and prepare them for the future where these skills are becoming essential [1]. With a 10.1" touchscreen the Tanoshi 2-in-1 is the first computer to open the full Android 7.0 experience to pre-teens through access to Google Play Store, curated age-appropriate content and pre-loaded productivity apps like Docs and Sheets and educational apps including those to learn to code. Tanoshi includes front and rear facing cameras, free easy-to-use parental controls and extra screen protection from accidental falls and scratches.
"Computers are the most critical need for our community," said Reid Cox, Co-Founder and CFO of iFoster. "We hope our partnership with Tanoshi will help us bring more computers to children who really need them and make more children believe in themselves and pursue a brighter future."
A recent study [2] of youth raised in foster care showed that having a computer at home improves not only academic performance, but also social connectiveness, relationships with biological families, life satisfaction and self-esteem, and reduces depression.
"When it comes to the accessibility of reliable computers, we at Tanoshi believe that no child should be left behind," said Brad Johnston, CEO and Co-founder of Tanoshi. "A reliable computer available at home could be the difference between a child excelling in school versus a child falling behind. We see access to a home computer for children as one more step on their way to success and we hope having this access will inspire and empower them."
The crowdfunding campaign on Kickstarter is live now through October 15th, 2017. Backers can pre-order a Tanoshi 2-in-1 computer to be donated to a foster child for only $149, versus the regular retail price of $199.99. With the help of caring individuals, every foster child can have access to a computer at home and a brighter future.
About Tanoshi
Tanoshi is a Silicon Valley startup founded in 2015 by Brad Johnston, a former product manager at Vizio and Toshiba, teacher, tutor and Rotary Scholar, with a mission to create fun, safe, educational and affordable computing products that kids love to use. Tanoshi is driven by the belief that every child deserves an equal opportunity to have access to an age-appropriate computer and develop skills that will be essential for future careers. The Tanoshi team consists of professionals in consumer electronics, software development, mobile and education who have worked at Google, Apple, HP, Toshiba, The Walt Disney Company, Berlitz and other industry leaders. Tanoshi is based in Fremont, CA.
Find out more about Tanoshi at http://www.TanoshiKidsComputers.com
Tanoshi on Facebook: http://www.facebook.com/tanoshikidscomputers
Tanoshi on Kickstarter: https://www.kickstarter.com/projects/tanoshi/fun-educational-computer-for-kids-ages-6-12
Media Contact at Tanoshi:
Galina Shmeleva
pr (at) tanoshiinc.com
+1.415.465.0938
About iFoster
Children in foster and kinship care deserve the same resources and opportunities for success as young people being raised by biological parents. Tragically, foster youth receive on average less than 50% of what the USDA reports the average American family spends on raising their children.
iFoster is a national non-profit that bridges the gap between youth in the child welfare system and the external corporations, foundations and government agencies who have the resources to help them succeed. iFoster has built the largest and most inclusive online community of young people and organizations in foster care with currently over 42,000 members in all 50 states. On behalf of the community, iFoster negotiates and collaborates with hundreds of partners who can provide the resources, supports and opportunities that foster youth need to become successful adults.
Media Contact at iFoster:
Reid Cox
reid (at) iFoster.org
+1.530.550.8001
_________
[1] Source: Code.org.
[2] Study by the University of Southern California