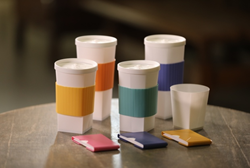 (PRWEB) October 10, 2017
FOLDnFOLD Engreeneering Co., Ltd. has recently launched an Indiegogo Campaign to support and promote their eco-friendly product, FoFoCup. The 12oz FoFoCup, new in a series of 8oz, 16oz, and 20oz cups, is a foldable, compact, and reusable polypropylene cup that can be reused more than a thousand times and features a bi-functional cartridge that operates both as a cup container and easy-to-use cup holder. The bi-functional cartridge features different colors, such as Golden Glow and Lazulite, allowing customers to personalize their own environmentally-sustainable FoFoCup with unique colors and styles
.
FOLDnFOLD Engreeneering Co., Ltd., located in Taipei Taiwan, is dedicated to environmental sustainability, and their mission includes ridding the world of the use of plastic and one-time beverage containers that harm the environment. The name, "Engreeneering" is an amalgamation of Green and Engineering, which sums up their goal to create and engineer new products that benefit and protect the eco-system. Trillions of paper cups are wasted and thrown away every year, infecting the environment, and causing lasting damage. FOLDnFOLD hopes that through the use of their products, they can prevent the proliferation of plastic and paper in oceans and forests.
FOLDnFOLD, eager to provide solutions for environmental sustainability issues, hopes that outdoor enthusiasts, athletes, and coffee drinkers will use their product. Last year, 1.4 million paper cups were used and thrown away during the Boston Marathon, which could have been prevented by the use of re-usable cups. Starbucks, and other coffee chains, feature one-time-only use cups that continue to negatively impact the environment. FOLDnFOLD is proud to say that not only is their product re-usable, but also features a compact, foldable process, making the cup easy to store, is virtually weightless, and includes a range in size from 8oz cups to 20oz cups. The FoFoCup can be used for warm and cold beverages, safe for juice, coffee, instant soup, water, and more, and can easily be carried throughout busy, day to day lives. FoFoCup is a convenient, easy to use product, and can make a difference. Make an impact, and purchase FoFoCup.
See the FoFoCup video here.
Support FoFoCup at https://www.indiegogo.com/project/preview/1fb3657d#/
Contact or like FOLDnFOLD at https://www.facebook.com/12ozFoFoMug/
Watch FOLDnFOLD videos at https://www.youtube.com/channel/UCEx0ksxdqI12s_q2H46KRVQ