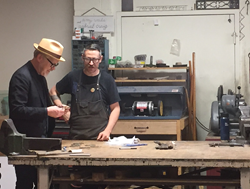 It's a makerspace with a really focused goal: to put back into the community and help those who are participating.
BOSTON, MA (PRWEB) September 28, 2017
New videos highlight Detroit makerspaces focused on making an impact in their communities and the lives of local residents. They include construction of a modular structure creatively designed to address housing challenges and be environmentally friendly. Adam Savage's website Tested produced the videos. The Fab Foundation and Chevron sponsored the events filmed.
The visits by Savage are part of a national tour that celebrates the impact of digital fabrication and making in education and youth development, business and entrepreneurship, and invention. The tour stops feature cutting-edge tools for invention and interactive demonstrations from participants at labs, reflecting diversity in people and place.
Partners seek to expand awareness of the power of new tools, such as 3D printing, laser cutting, CAD design and robotics.
At Detroit's Fab Lab Incite Focus, a socially focused production and training lab, Savage helped to build an open-source, net-zero-energy micro-cabin that could revolutionize housing. Incite Focus is a state-of-the-art production and training lab focused on the relationships between digital fabrication, permaculture, experiential learning and technology. Its digital fabrication lab combines these four areas and provides a holistic approach to sustainable community building within a collaborative learning space.
"Our emphasis is on being able to create things in the world that can meaningfully change people's lives," said Blair Evans, Director of Incite Focus.
That approach is apparent in the ways ideas are designed and created, Savage noted. "It's a makerspace with a really focused goal toward putting back into the community and helping those who are participating," said Savage.
The tour stop in Detroit also included Ponyride, a social mission incubator with a makerspace. Located in a 33,000 sq. ft. building, it is a catalyst for deploying social capital to a diverse group of artists.
Ponyride serves creative entrepreneurs and makers who are committed to work together to make communities in Detroit sustainable. It features local artisans and designers, who make and sell everything from housewares to jewelry.
Savage is an internationally renowned television producer, special effects designer/fabricator, host, maker and public speaker whose model work has appeared in major films, such as Star Wars: Episode II—Attack of the Clones and The Matrix Reloaded. The former cohost of Discovery Channel television series MythBusters and producer of Tested.com has partnered with Chevron and The Fab Foundation for the national tour of Fab Labs and makerspaces.
"The work these organizations are engaged in showcases the remarkable ingenuity of all people. As a Midwest native, I'm proud to see how new technologies and innovative practices found in Fab Labs and makerspaces are being used to solve modern challenges, and jumpstart new community solutions in cities like Detroit," said The Fab Foundation's Chief Implementation Officer, Sonya Pryor-Jones.
The Detroit visits occurred on May 17. Other tour stops included The Bay Area, Pittsburgh, Austin, Boston and New Orleans. All of the videos produced so far for the Maker Tour can be found here.
A Fab Lab is a carefully curated digital fabrication laboratory with off-the-shelf, industrial-grade design, fabrication and electronics tools, wrapped in open source software and supported by programs written by researchers at MIT's Center for Bits & Atoms. This platform for learning and innovation is a place to play, create, learn, mentor and invent, while joining and engaging with a global community of learners, educators, technologists, researchers, makers and innovators. There are 1200 labs in more than 100 countries.
The Fab Foundation was formed in 2009 to support growth of the International Fab Lab Network and development of regional capacity-building organizations.
It is a U.S. nonprofit 501(c) 3 organization that emerged from MIT's Center for Bits & Atoms Fab Lab Program. The Foundation's mission is to provide access to the tools, knowledge and financial means to educate, innovate and invent using technology and digital fabrication to allow anyone to make (almost) anything, and thereby creating opportunities to improve lives and livelihoods around the world.
Contact: Sonya Pryor Jones
The Fab Foundation
http://fabfoundation.org
info(at)fabfoundation(dot)org