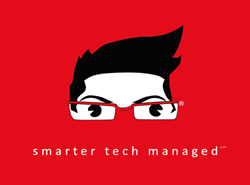 With Techimon, you'll never outgrow us and you'll have the security, technology and support to scale your business with confidence
Denver, CO (PRWEB) September 28, 2017
Denver based Techimon recently announced its core service offerings for the SMB market – providing Layered Cyber Security, Enterprise Cloud Solutions, Premier Managed Desktop, Data Center / Network Setup and Support. Techimon's innovative model delivers an end to end fully managed network package - containing a robust team of the world's top ranked cyber security experts, Sr. level engineers and next-gen technologies and solutions.
Law firms, healthcare, higher-ed, financial institutions and other small to mid-sized companies will often outgrow and outpace their managed support provider. Even further, a fast growing young company typically cannot afford to hire in-house Sr. level engineers or a Chief Information Security Officer (CISO). Cyber threats continue to escalate and hackers are now targeting the SMB space because it is considered low hanging fruit to most cyber criminals. It has been well documented that the SMB market is tremendously under-served with very limited security engineering capabilities and expertise.
"With Techimon, you'll never outgrow us and you'll have the security, technology and support to scale your business with confidence" stated Brian Stearns, CEO. "With the industry's top cyber security and global tech partnerships we have the ability to support any user environment, providing our customers with the best user experience and enterprise class managed network security."
Techimon has made a significant investment into building the most robust security platform in the business. Techimon offers their customers a full suite of best in breed security products and services, allowing them to work securely and efficiently during the day and rest well at night.
Techimon identifies the core issues and reduces the multi-support tickets that typical MSPs never solve. Techimon data centers are fully managed, and customers are supported in a true Network Operations Center. Techimon customers scale gracefully and grow exponentially without the fear of outgrowing and struggling with a Managed Services Provider.
Smarter Tech Managed.
Whether you have 50 or 50,000 workstations, you are our top priority.
Getting started with Techimon is easy, you can sign up for a Security Audit / Assessment or reach out to our team to discuss your start-up, existing business, compliance issues, cloud migration, security and managed IT strategies. Techimon's penetration testing is performed by the world's top ranked pen-testing team, a critical service that is more than just an automated scan. The penetration is performed manually and thoroughly evaluated by Techimon's' team of Sr. level experts, providing a true "ethical hacking" of your systems.
About Techimon
Techimon's team consists of Sr. level engineers and the world's top ranked cyber security experts. The company is partnered with global leaders for next-generation equipment solutions. Providing fast, friendly, enterprise level managed IT services for small business, Techimon delivers a premier IT package saving your company time and enabling your business to scale while remaining lean and agile.
Learn More @ https://www.techimon.com
Service Signup / contact @ https://www.techimon.com/contact/