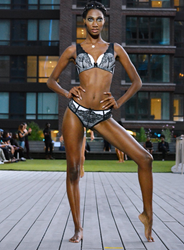 Here's to the bold, the beautiful, the courageous women Who dare every day to make a difference Different goes beyond what we wear and how we wear it. It's about what we do and the way we do it. Every. Single. Day KVO is different. Julia Ford & Claudia Wood
New York, NY September 28th (PRWEB) September 28, 2017
You don't have to design statement necklaces in order to make a statement. KVO Collections made a huge impression on the runway during The Journey Fashion Festival by Malena Belafonte. Cleverly paired with Christian Lacroix Lingerie, models wearing nothing but heels and lingerie showcased an incredible collection of diamonds for the beautiful, everyday woman at the Journey show at Mercedes Club in NYC and for the courageous and bold woman at The Journey show hosted by FlyNYON where diamond clad models arrived by helicopter and took to the runway through smoke and mirrors. Marilyn Monroe would have been proud
KVO Collections will be featured on the cover of Manhattan Bride Magazine in October and in multiple editorials throughout out the fall.
But there is so much more to the company that is KVO Collections. The profit from the jewelry is used to help everyday people with everyday challenges. The sisters behind KVO Collections have made giving back part of their business model. A part of the proceeds of all sales from their diamond jewelry go to help people. But they don't use it as a sales gimmick, they don't do it to be political correct or because it looks good. They do it out of the goodness of their hearts. No 501c3 needed. KVO Collections collaborates with other businesses and foundations who share the mission of supporting others with their profitable endeavors. From Surgeon's of Hope and HelpUsAdopt to the friend of a neighbor who needed a new carburetor, Julia Ford and Claudia Wood have made it their plight in life to honor the giving nature of their parents. The name of the company KVO, are the initials of their mother, Karin von Owstien who inspired the sisters with her European integrity and grace. Their father's philanthropic spirit was the inspiration for their commitment to this business model. Their mom's creativity, love of beauty, and European simplicity and culture inspired Julia and Claudia to honor special people in their lives by naming their pieces after them.
"Every day we get a chance to do something different. Love longer. Dream bigger. Live louder. KVO is about making a daily difference. What will you do different today?" Julia Ford and Claudia Wood.