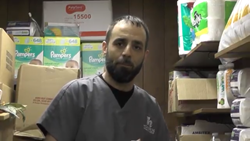 I believe service comes from all aspects of life...I know I'm in the right place for my life.
Cleveland, Ohio (PRWEB) October 11, 2017
Chris Greenawalt has been a giver his whole life. Initially working in food service, Greenawalt found that he most enjoyed being able to make other people's lives easier. His commitment to service has continued as a nursing assistant at an area nursing home and drove him to enroll in nursing school at Hondros College of Nursing in Independence, Ohio.
But today, Greenawalt finds himself spending more time working as a volunteer at a food bank with Christ Kingdom Ministries, allowing him to pay forward through service and good will. This food bank is unlike many others in that it offers more than food supplies.
"We have become more of a family crisis center and look to provide the community with whatever help any individual may need," says Greenawalt. "In addition to food, we also offer household goods and supplies for general living, like paper goods, cleaning supplies, clothing, and more."
Greenawalt has taken an ever-increasing role in the food bank, thanks to the encouragement and guidance of his pastor, Bishop M.L. Rogers.
"Another difference at our food bank is who we are working with in our services," added Greenawalt. "We do not rely only on the Cleveland food bank. We have developed relationships with direct markets such as Giant Eagle and the Mustard Seed. They are helping us directly allowing us to serve more for less."
Greenawalt says that his favorite part about working at the food bank is meeting people in his community.
"It gives an opportunity to not only get to know new people but it allows me to see where else we can help the community," he adds.
A student at the Hondros College of Nursing Independence location, Greenawalt looks to continue his life of service in a field where he can make a big difference in people's lives.
"I believe service comes from all aspects of life. Since beginning my nursing education, I have been the most satisfied by knowing what I am now able to do to helps others enjoy a better quality of life," he says. "I know that I'm in the right place for my life."
After graduation, Greenawalt plans to continue his education with a wound care program.
"I am very interested in healing wounds because I like to see people get better and being given that opportunity was a blessing directed to me," he says. "I plan to keep offering care to others no matter where my life takes me.
About Hondros College of Nursing
Hondros College of Nursing educates nurses at five Ohio campuses in Cincinnati/West Chester, Cleveland/Independence, Columbus/Westerville, Dayton/Fairborn and Toledo/Maumee, where students can earn a Practical Nursing Diploma and an Associate Degree in Nursing. Additionally, registered nurses in Ohio and other states can earn a Bachelor of Science in Nursing degree through the online RN-BSN completion program. Hondros College of Nursing is dedicated to its mission, as well as the students, partners, and communities in which they serve. For additional information, please visit hondros.edu.
Hondros College of Nursing is an accredited member of the Accrediting Council for Independent Colleges and Schools, (ACICS), 750 First Street, NE Suite 980, Washington, DC 20002, (202) 336-6780. The Practical Nursing and Associate Degree in Nursing programs are approved by the Ohio Board of Nursing. The baccalaureate degree in nursing program is approved and offered through the Westerville Main Campus and is accredited by the Commission on Collegiate Nursing Education, One Dupont Circle, NW, Suite 530, Washington, DC 20036, (202) 887-6791. Hondros College of Nursing cannot guarantee employment or salary. Hondros College of Nursing is a subsidiary of American Public Education, Inc. (NASDAQ: APEI).