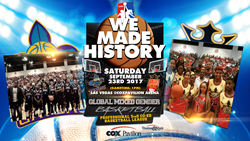 President Percy Miller, I can't wait until basketball fans all over the world can experience this up close and personal.
Los Angeles, Ca. (PRWEB) September 29, 2017
Global Mixed Gender Basketball, the first league to put both male and female pro-athletes to compete on the basketball court simultaneously. Most people questioned how it would work but all those questions were answered September 23rd 2017 at the Cox Pavilion. The New Orleans Gators and the Atlanta Heirs went underway in Las Vegas, while there was plenty of news, live entertainment, arena packed with excited fans and high-level basketball competition, a piece of history was made at the same time.
New Orleans Gators team owner Percy Miller and Atlanta Heirs team owner Tiny Harris have branded one of the most spectacular basketball entertainment, star-studded mixed gender league built on equality for the new millennial pro-basketball audience. The teams were stacked with big names in the pro-basketball genre: Carlos Boozer, Lisa Leslie, Angel McCoughtry, Caron Butler, the Gonzalez Twins, Cappie Pondexter, Stromile Swift, Tyrus Thomas, Brittney Griner and Metta World Piece, just to name a few. The exhibition ended with Basketball fans and critics amazed and impressed as GMGB League paraphernalia were sold out.
Metta World Peace says, "Tonight was groundbreaking, a real game changer. I can't wait until basketball fans all over the world can experience this up close and personal or through television. These women really can play. And Master P knows firsthand basketball and entertainment."
Youtube: https://youtu.be/p6UCS1Z2JzA (available 12am 9/26)
For more information, go to http://www.GlobalMixedGenderBasketball.com