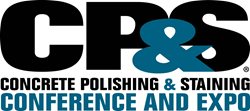 "Anticipation is building and we're excited at the response we've had so far," declares Ryan Olson, show manager of CP&S. "We can't wait to see everyone in Pittsburgh for a fun-filled event with networking, education, and more!"
Fort Atkinson, WI (PRWEB) September 28, 2017
The 2017 Concrete Polishing & Staining Conference and Expo (CP&S), the only event in the industry focused exclusively on polished concrete, kicks off next week, October 5-7, 2017 in Pittsburgh, PA. Concrete professionals in the polishing segment of the construction industry are invited to attend the conference sessions, exhibit hall and all-day leadership boot camp.
The conference will start with an All-Day Leadership Boot Camp – Leaders on a Mission 2017 on October 4, led by Brad Humphrey, construction veteran and coach. His workshop is tailored specifically for beginner leaders or seasoned pros in the construction industry.
Oct. 5-7 features a three-day conference with 17 educational sessions presenting technical and management courses. Sessions range from Polished Concrete Fundamentals to Secrets of Successful Job Costing: Running Your Business by the Numbers. New for 2017, CP&S offers seven courses that are accredited for American Institute of Architects (AIA) continuing education units.
The exhibit hall, which showcases industry-leading manufacturers and suppliers, will be open Oct. 5 and 6 from 11:30 a.m. – 5:00 p.m.
Polishing contractors; flooring, resurfacing and coatings contractors; architects, designers and specification writers; landscape hardscapers; engineers; and anyone interested in the industry is invited to attend and can register at CPSConference.com.
"Anticipation is building and we're excited at the response we've had so far," declares Ryan Olson, show manager of CP&S. "We can't wait to see everyone in Pittsburgh for a fun-filled event with networking, education, and more!"
The conference will be held in Pittsburgh, PA, at the David L. Lawrence Convention Center.
CP&S is presented by Concrete Contractor magazine, Polishing Contractor, ForConstructionPros.com and AC Business Media Construction Network brands.
For details and to register, visit CPSconference.com.
About AC Business Media
AC Business Media, the parent company of Concrete Polishing & Staining Conference and Expo, is a business-to-business media and business intelligence company with a portfolio of renowned brands in heavy construction, asphalt, concrete, paving, rental, sustainability, manufacturing, logistics and supply chain markets. AC Business Media delivers relevant, cutting-edge content to its audiences through its industry-leading digital properties, trade shows, videos, magazines, webinars and newsletters and provides advertisers the analytics, data and ability to reach their target audience.
For more information, visit http://www.ACBusinessMedia.com.