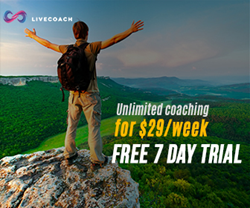 You Can Improve Your Life - It's Affordable, Convenient and Risk-Free
(PRWEB) September 28, 2017
LiveCoach, the go-to platform that brings the life-changing experience of coaching to everyone, on-demand at an affordable cost, officially launched today. Leveraging AI and big data to connect clients with compatible and reputable coaches at any time, LiveCoach is modernizing the industry for both users and coaches. Its subscription-based service offers clients with curated coach recommendations and unlimited messaging options with multiple coaches at low costs. The platform also allows coaches to reach more clients outside of their local area and in less time than in-person sessions as well as offers more return on each session.
With a successful beta program that kicked off in April 2017, LiveCoach has built a database of over 1,000 reputable, certified life coaches that are available to provide council and help users reach their goals across life subjects as diverse as health, careers, fitness, relationships and more. Additionally, through AI, the use of big data, feedback from the beta program and research, LiveCoach has eliminated the guessing game out of selecting a coach by recommending a curated list of qualified coaches based on the user's need.
"Whether you are looking for guidance on how to lose weight, reach career goals or handle a rocky relationship, life coaching is a proven form of counseling and one of the fastest growing industries in the United States. The industry as a whole though hasn't seen much change in the last few decades, with people still having to do their own research to find a coach, pay hundreds of dollars for each in-person session and being limited to connecting with one coach at a time," said Shimon Lazarov, CEO of LiveCoach. "With LiveCoach, we are giving life coaching the makeover it needs, bringing hundreds of reputable coaches to one platform and using internal data and research to offer each user recommendations, based on their individual needs."
Improving an Outdated System for Users
Moving to an affordable subscription service, LiveCoach allows users to experience unlimited coaching from multiple professionals, facilitating instant help when facing urgent problems and overcoming the sticker shock barriers to entry. When a person visits LiveCoach, they are asked to share the area they are seeking help in and the specifics of their situation. With this information, LiveCoach's AI platform uses collected data from its users along with internal research to recommend the top five coaches on the platform for the user. The person is able to connect with one of the curated coaches or browse through other coaches that specialize in their specified area.
To ensure transparency and the reliability of each coach on the platform, every coach has a detailed profile page that lists their qualifications, certifications, time-stamped reviews and referrals from other LiveCoach users, making it easy for people to pick the coach for them. Users also no longer have to worry about paying hundreds of dollars or making time for in-person sessions with LiveCoach's affordable, flexible payment and chat options. They can select the messaging option that works best for them as well as pick a coach that has pricing in line with their financials.
o Unlimited, messaging-based coaching – starts a just $29 / week per coach
o Audio/video coaching – starts at $20 / 30 mins
If a user has multiple life topics or issues they would like to tackle or would simply like to work with multiple coaches, they are able to work with as many coaches as they would like on LiveCoach.
Improving an Outdated System for Coaches
LiveCoach's platform isn't just an improvement for clients. It was also designed to bring more opportunity to coaches. Through the solution, coaches can easily reach more clients outside of their immediate area and have more flexibility in their schedule by eliminating the need to schedule sessions in advance. Through the messaging offering, coaches can now connect with multiple clients an hour when they are available to help, and are able to provide more real-time advice to clients while also managing their time more efficiently.
The aggregated, time-stamped client reviews on LiveCoach and required profile pages also provide coaches with verified reputation scores to help attract future clients and prove topic expertise. With LiveCoach, coaches also have a lower overhead and receive 80 percent of fees charged for each session.
Availability
LiveCoach is open now to both users and coaches at http://www.livecoach.io.
About LiveCoach
Founded in April 2017 by Shimon Lazarov and Rob Alderman, LiveCoach is the go-to platform that brings the life-changing experience of coaching to everyone, on-demand at an affordable cost. The curated platform leverages big data and research to match reputable coaches with those seeking professional advice. Following a robust beta phase, LiveCoach has more than 1000 coaches on its platform, providing council to hundreds of users on life subjects as diverse as health, careers, fitness, relationships and more. LiveCoach is headquartered in San Francisco and a privately funded company.