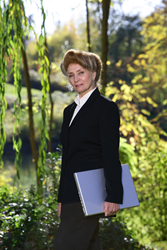 Grants Pass, OR (PRWEB) September 28, 2017
For decades, the founder of Bio-Logic Aqua® Water Life Science®, Sharon Kleyne, has monitored and researched the global water crisis that threatens life on the planet. Kleyne, host of the nationally syndicated The Sharon Kleyne Hour Power of Water, Global Climate Change and Your Health on VoiceAmerica sponsored by Nature's Tears® EyeMist®, took to the air to warn the world's population of the unprecedented crisis and challenged scientists, researchers and teachers to educate the general public about the dangers of dry eye syndrome and dehydration of the earth's atmosphere and body water vapor.
Kleyne has always embraced opportunities to teach children and young people about water, and she made a special point of reaching out to them. In Kleyne's experience, children seem to be more open-minded and imaginative. "We should be including children and young people in the discussion about ways to provide fresh, pure water to everyone on earth," said Kleyne. Like longtime colleague and water ally, Dr. Effie Chow, Kleyne believes that we should be vigorously encouraging young people and their teachers to grow in awareness. We should be helping them and encouraging them to discover new technology solutions for this international water emergency that threatens their future and the future of earth itself.
The two researchers agreed that all human life is connected with and flows from nature. The flow is air, which is moisture and vital to all life. "If you talk about air, you must talk about water," Kleyne said. "Everyone must learn to breathe as the earth breathes." Kleyne believes that water science camps in schools would be beneficial. She also thinks that young people should be encouraged to participate in new water research and the development of new technology by being enlisted as interns.
As an example, Kleyne cited her research team's efforts in Bio-Logic Aqua® Water Life Science® research. Their invention of Nature's Tears® EyeMist®, for instance, provides dry eye relief in the form of Trade secret tissue culture grade water that is applied to eyes as a patented micron-size mist from a personal, portable hand-held humidifier. Today, Nature's Tears® EyeMist® is endorsed by more than 22,000 ophthalmologists and optometrists nationwide. Though this original product is the result of new fresh water technology, it also draws on the wisdom and efficiency of holistic practices such as Qigong, which dates back thousands of years. Especially vulnerable are the eyes, which are 99% water. Our eyes are constantly drying out, leading to millions of cases of blindness internationally; until recently, most treated this condition with chemically-based eye drops that offered only temporary relief and actually contributed to ongoing deterioration. Nature's Tears® EyeMist® is the only pure, fresh water alternative technology in the world, and it is exactly this kind of invention that Kleyne sees young people creating in the future. Meanwhile, adults should be stepping up and expanding their water education.
Please visit http://www.biologicaqua.com for more information about new water research technology and a new Water Life Science® experience that awaits you.