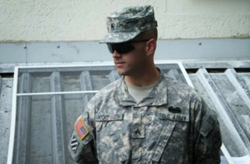 "We enjoy working with causes that have a strong need," says Skura, "knowing our donations make a difference."
Norcross, Georgia (PRWEB) September 28, 2017
Water aids healing, in a number of ways. Thus, Maytronics U.S. is teaming up with the Water For A Warrior program to donate a Dolphin S50 automatic pool cleaning robot to U.S. Army Veteran Sgt. Anthony Wayne Hockensmith II, who lives in Georgetown, Kentucky.
"The water provides an ideal environment for exercise and healing," says Dr. Beth Scalone, an Aquatic Therapy & Rehabilitation Institute certified doctor of physical therapy and orthopedic certified specialist.
"The unique properties of buoyancy, hydrostatic pressure and viscosity combine to allow individuals (intolerant to land-based activities) to exercise—gaining physical and mental benefits, improving quality of life. As a physical therapist, I see the positive effects a regular aquatic exercise program can have on individuals with a variety of injuries and functional limitations."
Benefits of swimming and aquatic therapy or fitness, she adds, include:

Warm water immersion alone increases blood flow to the muscles up to 240%.
Buoyancy provides unweighting of the joints to decrease compressive forces and pain.
Water aids and encourages full range of motion, while buoyancy helps increase endurance.
Viscosity, or drag, provides all-around resistance of movement for stronger muscles and joints.
Water support safely challenges and improves gait and balance, while reducing the fear of falling.
Swimming decreases anxiety and depression, offering a sense of normalcy thru the ability to exercise.
"The Dolphin S50 (is being) sent directly to the veteran's home," says Jennifer Bishop with Water For A Warrior, which acknowledges U.S. Military veterans' sacrifices on an annual basis by providing swimming pools, hot tubs and other products or services to help them meet their therapy, recovery and fitness needs.
"Swimming is the only thing that seems to help," says Amber Hockensmith of her husband, who served the U.S. Army for eight years, survived two tours of combat duty and suffers PTSD, traumatic brain injury and side effects.
"We attempted to join a local gym (with) a pool. No matter what time of day we (went) there were too many people in the gym. Anthony does not do well in crowds. (He also) suffers from epilepsy caused from a TBI that happened … during his first deployment. He has had a seizure once in public and doesn't want it to happen again."
The Hockensmiths are happily married childhood sweethearts and have four children between them. A residential pool donated by Aurora Pools & Spas allows this veteran to work out in the comfort of his own home and enjoy leisure time with his family. WFAW's goal is to help veterans like him with support from pool and spa industry professionals, such as MarCom Manager Steve Skura and Marketing Asst. Brittany Brock for Maytronics.
"We enjoy working with causes that have a strong need," says Skura, "knowing our donations make a difference."
Anyone who wishes to donate products, labor or other services are encouraged to contact Bishop directly via info(at)WaterForAWarrior(dot)com. Learn more about Maytronics and robotic pool cleaners at MaytronicsUS.com.