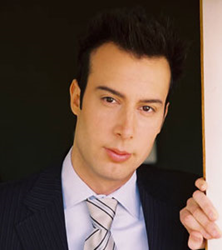 "I look forward to hand picking the next generation of film students who are the best of the best, and help them break through into the film industry working alongside of A-list industry veterans." - Jeffrey "Blue Shark" Gliwa
San Francisco, CA (PRWEB) September 28, 2017
Join SFAI's Director of the Film Department, Christopher Coppola, and film producer Jeffrey "Blue Shark" Gliwa in celebration and continuing support of SFAI's legacy of excellence and originality in the cinematic arts, October 4th, 6-8pm at Café Zoetrope, 916 Kearny St., San Francisco. There will be film screenings, guest speakers, hor d'oeuvres, Coppola wine and more! Tickets for the event are $75 and can be purchased here: http://m.bpt.me/event/3094524
The latest film produced by Blue Shark Pictures and CRCoppola Enterprises is Torch, which is the follow up to 2015's "Sacred Blood". Torch is a supernatural, jungle thriller set behind the backdrop of a timeless love story. Torch will have its world premier at the 40th Anniversary of the prestigious Mill Valley Film Festival on October 8th at 9pm. Tickets for the premier can be purchased here: https://tickets.cafilm.org/websales/pages/info.aspx?evtinfo=316757%7E983c845f-a11a-4407-a254-d45cc3fdaab3&epguid=a1ad63af-e5ba-48a3-940d-9a52532417fb
About Jeffrey Gliwa: Jeffrey Gliwa (known as "Blue Shark") is an executive producer and founder of Blue Shark Pictures, LLC. He translated his talent for production and promotion into film fund raising ventures with a focus on introducing legacy talents to the industry.
Blue Shark Pictures specializes in pairing talented, up and coming aspiring filmmakers with industry veterans and helping them break through in the film industry.
Blue Shark Pictures website; http://bluesharkpictures.com/
Jeffrey Gliwa's website; http://jeffreygliwa.com/ and IMDB page; http://www.imdb.com/name/nm7627683/
About SFAI: The San Francisco Art Institute is the nation's oldest and only school of higher education dedicated to contemporary art. It is considered the Golden State's art school treasure, and offers professional filmmakers helping student filmmakers in the Bay Area.
SFAI website: http://www.sfai.edu/