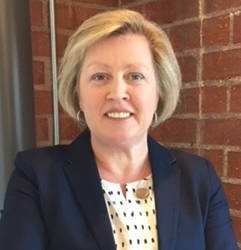 "Sarah brings extensive leadership experience and a unique approach to cultivating vision and values." — Tony Barth, Delta Dental president and CEO
San Francisco, CA (PRWEB) September 27, 2017
Delta Dental of California and its affiliates, one of the largest dental benefits delivery systems in the nation, today announced the appointment of Sarah Chavarria as chief human resources officer and senior vice president.
With more than two decades of executive leadership experience overseeing human resources and talent management strategies for companies undergoing growth and transformation, Sarah will lead initiatives to enhance employee experiences, strengthen performance management, and improve the organization's recruitment and retention efforts.
Sarah also brings to Delta Dental more than 25 years of industry experience and in-depth knowledge of health care, most recently serving as chief people officer at NantHealth. Prior to that, she was with Optum360, a joint venture between Optum and Dignity Health, and she also served as vice president at Dignity Health. Her other experience includes senior leadership roles at Oracle, Medibuy and Levi Strauss.
"Sarah brings extensive leadership experience and a unique approach to cultivating vision and values," said Tony Barth, Delta Dental's president and CEO. "From enhancing our employee onboarding to creating inclusive talent management and development programs, her skills will help position our organization to achieve its objectives while enhancing the employee experience."
Sarah holds a bachelor's degree in liberal arts from the University of Texas at El Paso. She also holds certifications in the GE Change Acceleration process, MBTI, the Connor Change Model, and Strategic Programs, among others. She will be based in the company's headquarters in San Francisco.
About Delta Dental
Delta Dental of California, along with Delta Dental Insurance Company, Delta Dental of New York, Inc., Delta Dental of Pennsylvania, and their affiliated companies, together provide dental benefits to 36.5 million people in 15 states, the District of Columbia and Puerto Rico. All are part of the Delta Dental Plans Association, based in Oak Brook, Ill., the not-for-profit national association of the 39 independent Delta Dental member companies that collectively cover more than 75 million people nationwide.