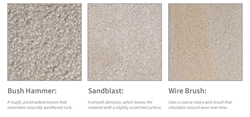 Bloomington, Ind. (PRWEB) September 29, 2017
Visitors to the Indiana Limestone Company booth at the ASLA 2017 Expo, Oct. 20-23 in Los Angeles, will find a technical and aesthetic resource of exceptional value. Premier producers of the nation's stone, Indiana Limestone Company will showcase new products and offer its unparalleled expertise in the use of stone in landscape architecture.
Booth 147 showcases the company's Urban Hardscapes line, comprehensive and coordinated outdoor offerings including paving stones, pier caps, wall caps, steps, and other natural stone products. These products are versatile, beautiful, and lasting. The firm's associates at the show will offer the landscape community consulting and design assistance decades in the making.
An exciting extension of the Urban Hardscapes line is the availability of multiple textures on paving and tread materials. Demonstrating its continued leadership, Indiana Limestone Company is the first manufacturer to apply these to standard products – an option which makes it more accessible for a broader range of projects. The result: shorter lead times and less cost for more useful products.
Also featured will be the Estate Veneer Series which offers timeless accents and durability for major projects such as entertaining islands and outdoor kitchens. Available in both full-bed and thin varieties, the series works well with outdoor appliances and perfectly complements a spectrum of design visions.
"We've prioritized our product development efforts by focusing on the needs of landscape architects
and contractors in the landscape/hardscape segment," said Ben Wojcikiewicz, Indiana Limestone Company product manager. "We get to spend time with a very important group for us. Indiana Limestone has been popular for a long time with the architectural community. It's also a fantastic option for landscapes and hardscapes. Helping drive general awareness in this group is very important.
"Indiana Limestone, and natural stone in general, has this perception that it is too costly for certain types of projects. As an industry-wide trend, we have benefited from efficiency gains with some levels of automation in production. In many cases, we are cost-competitive with cast alternatives and are happy to spread that message."
This year, Indiana Limestone Company is a participant in the expo's Professional Practice Network. PPN offers a superb opportunity to get the most out of design solutions from Indiana Limestone Company and other exhibitors. The ILCO presentation will be at 9:45 a.m. October 21.
For more on the company and its products, please visit http://www.indianalimestonecompany.com.
About Indiana Limestone Company
Indiana Limestone Company is unmatched as the premier supplier of Indiana Limestone in a range of beautiful and lasting building products. Founded in 1926 (with predecessor firms that had been quarrying limestone since the mid-1800s), ILCO today remains the provider of choice for this internationally renowned natural stone. Throughout an illustrious history in which its stone has made such iconic structures as the Empire State Building, National Cathedral, and the Pentagon, ILCO has reliably provided the highest quality products and services carefully tailored to the needs of the market with an environmental, natural focus.