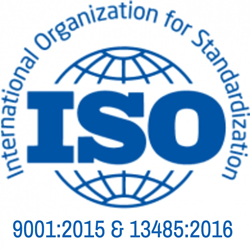 This effort reflects our commitment to quality and to our customers.
SUTTON, MA (PRWEB) October 02, 2017
Interstate Specialty Products, Inc. (ISP) is pleased to announce its recent achievement in obtaining certification to both ISO 9001:2015 and ISO 13485:2016 with NQA, a leading global independently accredited certification body.
ISP's President and CEO, John Savickas, said: "Renewing our ISO 9001 and ISO 13485 certifications to the latest standards supports our commitment to providing our clients with an unrivaled, world-class system and service. This effort reflects our commitment to quality, our customers and our position as thought-leaders in manufacturing high-performance custom gaskets and precision custom die cutting services."
NQA is one of the largest and most respected certification bodies in the world, with over 35,000 certifications in over 70 countries. "We are pleased to certify that the Quality Management System of Interstate Specialty Products applicable to the provision of Precision Die Cutting and Specialty Gasket Fabrication Services has been assessed and approved by NQA, U.S.A., against the provisions of ISO 9001:2015 and ISO 13485:2016." said Tim Woodcome, Assessment Director at NQA USA.
ISO 9001:2015 is the internationally recognized standard for Quality Management Systems (QMS). It is the most widely used QMS standard in the world, with over 1.1 million certificates issued to organizations in 178 countries. ISO 9001 provides a framework and set of principles that ensure a common-sense approach to the management of your organization to consistently satisfy customers and other stakeholders. In simple terms, it provides the basis for effective processes and effective people to deliver an effective product or service time after time.
ISO 13485:2016 is the quality management system standard for medical device manufacturers and their sub-tier suppliers and subcontractors. Based on the ISO 9001 standard, ISO 13485 includes additional requirements for medical device manufacturers to demonstrate their intent to comply with applicable regulatory and statutory requirements. ISO 13485 is recognized as an aid in supporting compliance with the Medical Device Directive.
About Interstate Specialty Products, Inc.
Interstate Specialty Products offers custom die cutting services for the manufacture of high-performance precision filters, membranes, gaskets, and related parts. Founded in 1963, the firm has served leading blue-chip companies in the chemical, diagnostic, electronic, industrial, instrumentation, medical, process, scientific, security and many other industries. Featuring digital die-less cutting, high speed cutting, and rotary die cutting services, Interstate Specialty Products can fabricate parts ranging from miniature die cut products to components up to 60" x 120", with incredible precision, and will employ the appropriate technology for your application. The firm is ISO 9001:2015 and ISO 13485:2016 certified by NQA.
About NQA
NQA is a leading global independently accredited certification body, providing assessments (audits) of organizations to various Management System Standards since 1988. NQA is part of NTS, the leading independent provider of environmental simulation testing, inspection and certification services in the USA. NQA's worldwide operations are accredited to perform management systems registrations by ANSI - ANAB (American National Standards Institute/Registrar Accreditation Board), UKAS (United Kingdom Accreditation Service), and various other regional and industry-specific oversight bodies.