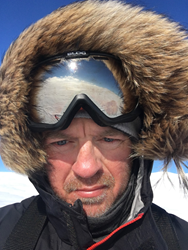 London, United Kingdom (PRWEB) September 29, 2017
A 46-YEAR- old British adventurer is hoping to fund charities and a world speed record attempt to the South Pole by selling 1 thousand advertising space on his website's homepage.
James Redden, from Thame, England, set up northbysouth2017.com after his sponsors ran into financial troubles and pulled out of funding the epic ski trek. James said that the thought of having to pull out after committing so much time and raising donations for his supported charities spurred him into action: "I'd rather not have to cancel the fundraising event as many people have worked so hard to help me get to this point. I simply don't want to let them down." 
Despite his site having only been online for 2 weeks, James claims he's already had a number of companies snap up slots on the website.
Steve Jones, a representative of one advertiser on the website commented, "Having worked with James I know he is a very determined person. How could I not help him raise the funds and donations for the journey? "
Redden, who hopes to set off on his journey in December, says that people can use the pixels they buy to display an ad or logo and have a link to their own site.
"The idea is to appeal to owners of both large and small businesses," Redden commented, "and even though the price is set to $100 per logo, I'm open to offers for larger, more visible placements." 
He believes the pixels offer good value because the homepage will be kept online for at least 10 years and $100 is a tiny sum in terms of modern advertising budgets. "It will be a snapshot of how we do advertising in the early 21st century and one that endures for many years," Redden explained.
Asked what he will do with any leftover cash should he reach his $100,000 target, Redden said, "After covering the cost of the travel and logistics for the South Pole – about $63,000 – the remaining funds will be split between his supported charities, soundabout.org.uk and meningitisnow.org. The staff in both of these organisations do simply amazing work and I intend to honour their efforts in any way I can."
Find out more about James Redden, his expedition funding aims and supported charities at http://www.northbysouth2017.com
Contact: James Redden
+44 (0)7738 760238