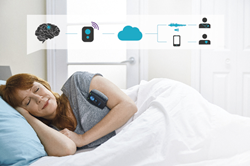 To be noticed and recognized by the editors of Popular Science is truly humbling
SAN ANTONIO, Texas (PRWEB) October 18, 2017
Popular Science magazine has named the SPEAC® System "Best of What's New in 2017" in the Health category. The SPEAC® System is the first FDA-cleared, non-EEG, physiological, signal-based system for seizure monitoring.
"We are excited and thrilled by this award from Popular Science," said Mike Girouard, President, CEO and co-founder of Brain Sentinel, Inc. Girouard continued, "There is so much innovation going on right now in advanced biomedical science and technology. To be noticed and recognized by the editors of Popular Science is truly humbling."
"The Best of What's New awards honor the innovations that shape the future," says Joe Brown, Editor in Chief, Popular Science. "From life-saving technology to incredible space engineering to gadgets that are just breath-takingly cool, this is the best of what's new."
Epilepsy affects over 3.4M people in the US and 65M people worldwide. One in twenty six Americans will develop epilepsy in their lifetime, according to the CDC. It is the fourth-most prevalent neurological disease affecting more people than Multiple Sclerosis, Cerebral Palsy, and Parkinson's combined. Unfortunately, 55,000 people die from complications from epilepsy each year (Fisher, 2010; Britton, 2002; Sander, Bell, 2004). Approximately one-third of people with epilepsy do not have control over their seizures and another third can only partially control their seizures (Baker, 1997). Studies have shown that about 50% of seizures happen at night (Herman, 2001) and 86% of nocturnal seizures are not documented (Hoppe, 2001).
ABPN board-certified epileptologist and Brain Sentinel co-founder, José E. Cavazos, MD, PhD, added, "The sEMG biomarker is an exciting breakthrough because it reflects the activity of the primary motor cerebral cortex. This finding allows us to monitor patients in new ways outside the hospital for longer periods of time than ever before while providing diagnostic data to their physicians."
Harnessing the rich sEMG data through recording and in-depth analysis allows patients and their seizures to "speak" to physicians in a way not possible before. "With the SPEAC System, we can now give physicians a much more complete longitudinal record of their motor seizures and events," said Luke Whitmire, PhD, Brain Sentinel's Chief Science Officer. Whitmire continued, "For 30-day periods of monitoring, we can provide the physician with motor seizure and event counts along with the time and date stamps of those events. Through post-processing analysis of the sEMG record we can calculate the tonic and clonic phases of generalized tonic clonic seizures. We can also perform wavelet-transform analyses that may help a physician determine if events were epileptic or not. Also, the System may be able to provide an audio recording of the event so physicians can hear if there was an ictal cry – an unmistakable, involuntary sound the patient makes at the beginning of a generalized tonic-clonic seizure. Further, audio recordings may give insight to subjective experiences that occur during the onset of a seizure and can provide insight to how patients recover from seizure events. Ongoing monitoring may help a physician determine if the prescribed treatment plan is effective or not."
Girouard added, "This journey began simply by trying to help a mother who couldn't sleep at night because she was worried about her son's nocturnal seizures. Now, we have a chance to help a whole category of patients suffering from uncontrolled seizures. We've moved sEMG from artifact to an epilepsy biomarker."
Cavazos continued, "The struggle to gain seizure freedom is real. The industry has not materially impacted the percentage of people who have uncontrolled epilepsy despite the launch of many new drugs and devices over the past twenty years. With better information now available to them from the SPEAC System, physicians have another tool to help their patients be heard."
About the SPEAC® System
On February 16, 2017, Brain Sentinel received US Food and Drug Administration (FDA) de novo clearance to begin marketing the SPEAC® System, the Brain Sentinel® Monitoring and Alerting System. The adjunctive seizure monitoring system is indicated for adults at home or in healthcare facilities during periods of rest. A lightweight, non-invasive monitor is placed on the belly of the biceps muscles to analyze surface electromyography (sEMG) signals that may be associated with generalized tonic-clonic (GTC) seizures. It provides an alarm to alert caregivers of unilateral, appendicular, tonic extension that could be associated with a GTC seizure. The System records and stores sEMG data for subsequent review by a trained healthcare professional. The SPEAC System is currently available to the VA Health System.
About Brain Sentinel
Brain Sentinel, Inc. is a privately held, medical device, start-up company based in San Antonio, Texas. The company manufactures and markets its sEMG-based System under the name, the SPEAC® System: the Sensing, Portable sEMG, Analysis and Characterization System. Brain Sentinel is committed to helping people gain better control over their seizures and be heard by their physicians.