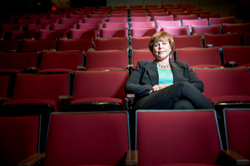 Documentary Puts Struggles Of Women Lawyers in Generational Context
Atlanta, GA (PRWEB) September 29, 2017
Balancing the Scales will broadcast on New York public television station WNYE (Infinity/Comcast Channel 12) on October 9, 2017 at 9:30pm ET.
Balancing the Scales delves into the challenges women lawyers have faced historically and still face today, including the additional hurdles faced by women lawyers of color. Many prominent lawyers and judges tell their stories, including Supreme Court Justice Ruth Bader Ginsburg and well known civil rights advocate Gloria Allred. Through candid and often humorous conversations, the film illustrates how our culture has accepted less than full equality for women and how our cultural stereotypes contribute to the widespread notion that women lack the "leadership gene."
It also explores how the intersectionality of gender and race creates additional challenges, and what we as a society can do about it. "Viewers may be surprised that even women lawyers have to fight for their rights," says film director Rowen.
Balancing the Scales has been broadcast on public television nationwide, and privately screened by national and international corporations, law firms, and organizations. The message resonates not just with lawyers, but with men and women in all walks of life. Viewers say Balancing the Scales is "phenomenal" and "inspiring." Upcoming screenings/presentations include ABA/Harvard Law Summit on Women in the Legal Profession, Diversity Law Institute Summit, National Association of Women Lawyers, and the National Conference of Women Judges.
As a lawyer for 38 years and a documentary filmmaker for 20 years, Sharon Rowen was in a unique position to create a documentary film about gender equity in America. For more information about the film and to view the film trailer, please visit the film's website: http://www.balancingthescalesmovie.com
Sharon Rowen of R&K Productions, LLC:
R&K Productions, based in Atlanta, Georgia, is a film production company led by attorneys Sharon Rowen and John Klonoski. Its primary focus is production of documentary films about issues of social justice. Sharon Rowen co-produced and directed the film. Her prior films include "Georgia's Women Lawyers", underwritten by the Georgia Civil Justice Foundation. She is currently developing her next film, "Breaking Through", about women in tech, politics, and entertainment.
Producers and Editors:
Award-winning filmmaker Zac Adams co-produced the film with Sharon Rowen. Award-winning filmmaker Tim VandeSteeg of Indiewood Pictures has also joined the film as associate producer.
Zac and Tim produced "Iron Will: Veterans' Battle with PTSD", narrated by Billy Bob Thornton and directed by Sergio Valenzuela, editor of "Balancing the Scales". The film's executive producers are Sharon Rowen and John Klonoski.