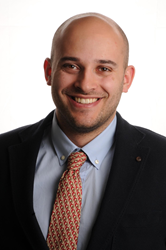 Nothing beats the feeling of providing a service to another human being that goes above and beyond what they expected.
New York, NY (PRWEB) September 28, 2017
At the prestigious American Academy of Periodontology (AAP) 103rd Annual Meeting in Boston, MA, highly trained and respected New York, NY, periodontist, Dr. Alexander Volchonok of AV Periodontics, received two accolades from his AAP colleagues. Dr. Volchonok's awards come as he continues his role as an emerging leader among dental practitioners across the country.
His honors include winning the AAP Annual Meeting Straumann Scholarship for being a distinguished, new periodontist. Each of this year's 15 Straumann Scholarship recipients receive funds for future AAP Annual Meeting expenses. The Scholarship winners, including Dr. Volchonok, were also recognized at the Annual Meeting's "Pearls and Pitfalls" session. Dr. Volchonok has received the Straumann Scholarship twice in a row, a notable, first-time distinction among his peers.
In addition to obtaining the Scholarship, Dr. Volchonok received a feature in the AAP-published Periospectives magazine as part of the publication's Spotlight series. His interview focuses on his experience as an up-and-coming leader in periodontics, showcasing his unique story behind becoming a dental practitioner.
Dr. Volchonok is humbled by these honors which punctuate his focus on helping patients achieve health goals like revolutionizing their smiles through effective periodontal treatments and innovative, lifelike dental implants. "Nothing beats the feeling of providing a service to another human being that goes above and beyond what they expected and improves their quality of life for years to come," he explains.
Patients in need of a periodontist in New York, NY, or Norwalk, CT, can receive custom dental implants and periodontal care with Dr. Volchonok, as he practices the full spectrum of his periodontal treatment options in both locations. Individuals may contact AV Periodontics for a comprehensive, individualized consultation by calling the office at 929-293-0200 or visiting http://www.avperio.com.
About the Periodontist
AV Periodontics is a modern periodontal practice offering leading care to patients in New York, NY and Norwalk, CT. Dr. Alexander Volchonok is a Diplomate of the American Board of Periodontology, director and co-founder of the NYC Interdisciplinary Study Club and has lectured both nationally and internationally on various periodontal and dental implant related topics. Dr. Volchonok is dedicated to pioneering the latest minimally invasive techniques to periodontics and implant dentistry and takes a collaborative approach to patient care. To learn more about Dr. Volchonok, the services he offers, or his practice, AV Periodontics, visit his website at http://www.avperio.com or call his practice at 929-293-0200 to schedule a personalized consultation.