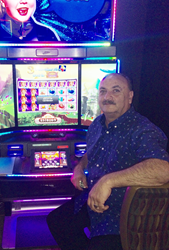 San Jacinto, CA (PRWEB) September 28, 2017
If you've visited a casino lately, then you probably noticed that almost every guest seems to have their own method, superstitions or strategy when it comes to playing slots. But it appears that for Soboba Casino guests, there is little superstition involved, because well, everyone is winning. Over 8 Million dollars in jackpots have been given away over the past month, and the winning trend is not losing its momentum any time soon. Arturo Herrera of Riverside County is one of the lucky winners who has hit it big. On September 15th he took home an enormous jackpot of $237,811.69 after striking a wide area progressive win on the famous Willy Wonka slot machine. According to WMS Games, Willy Wonka's candy world comes to life with sweets and bonuses galore in the exciting game, but no one has been more excited to play than Arturo.
"It is beyond exciting to see another life-altering jackpot awarded to yet another lucky Soboba Casino player," said Joe Whitman, Director of Slots at Soboba Casino. "It's exhilarating to be a part of the Soboba Casino team that is changing lives, one jackpot at a time. We have the games that players want, the friendliest team in the nation, and a growing record for huge jackpots. Let's keep this run going!"
Soboba Casino features approximately 2,000 of the newest, hottest slot machines, an expansive and modern non-smoking room, 20 classic gaming tables featuring all your favorite card games. Need to recharge & refresh? Visit the cozy Soboba Cafe and Coffee Kiicha, or experience AC's Lounge with full cocktail bar and three giant HD flat screens including the "Sobobatron", the Inland Empire's biggest HD video wall.
Soboba Casino is proudly owned and operated by the Soboba Band of Luiseno Indians. Come join us for all the fun and then some! Soboba Casino. Where Everybody Goes to Play! For more information visit: https://soboba.com/