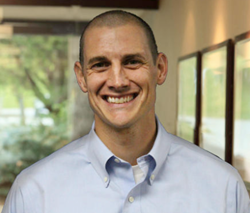 Chris has a clear passion for helping others learn and grow and we are thrilled that he's joined our team
TOWSON, Md. (PRWEB) September 28, 2017
McDonell Consulting Group (MCG), an authorized licensee of Sandler Training, is excited to announce the hiring of Chris Caldwell as Business Development Associate. In this role, Caldwell will immerse himself in the Baltimore business community and engage companies and their leadership teams in conversations related to their sales, sales management, leadership, strategic customer care, and overall growth strategy for 2018.
Leveraging his background as an educator and communicator, Caldwell will work with the MCG team to develop new relationships and provide the company's core service of business and management coaching and sales training.
"Chris has a clear passion for helping others learn and grow and we are thrilled that he's joined our team," said MCG Founder and President Chris McDonell. "He has a natural gift for developing relationships and communicating clearly; those are skills that will serve him and our business extremely well."
For the last 10 years, Caldwell excelled as a classroom teacher, coach, and retreat facilitator, most recently at Loyola Blakefield High School in Towson. During his time at Loyola, Caldwell created and developed a number of curriculum, including two Advanced Placement courses, with a majority of his students scoring in the top 15% nationwide. In addition to his classroom responsibilities, Caldwell also involved himself in development opportunities on campus, spearheading the initiative to completely fund and build a state-of-the-art indoor golf training facility on campus.
"Joining the McDonell Consulting Group team is a fantastic challenge and opportunity and I am excited for the journey ahead," Caldwell said.
As Caldwell joins MCG, he has not left his love of teaching history behind. He is the creator and host of a popular podcast entitled "A Teacher's History of the United States," which is the second-most-popular U.S. history podcast on iTunes with more than 50,000 downloads since its launch in April.
 
About McDonell Consulting Group
MCG provides growing businesses with leadership, sales, and management training; as well as staffing and recruiting services. A proud Baltimore business for nearly 10 years, MCG is an authorized licensee of Sandler Training, which provides a proven sales, corporate, and management training programs. Overall, MCG helps its clients realize sustainable growth for their teams and organization.