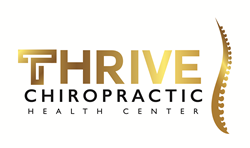 "We are excited to meet you where you are at in your health journey and help transform your health,"
(PRWEB) September 28, 2017
Thrive Chiropractic Health Center will officially open its new practice during the first week of October. The office is located at 10400 San Jose Boulevard in Jacksonville. It's close to Chick-Fil-A, Target and the Williams Family YMCA.
New to the area are Drs. Matthew and Tiffany Thornton, a married chiropractic couple with years of experience, eager to serve the people of Greater Jacksonville with expert chiropractic care.
"I've been in practice five years," says Dr. Tiffany. "Dr. Matthew finished his residency in March. We have both served abroad in Haiti and the Dominican Republic for a combined ten years."
The Thorntons are opening Thrive Chiropractic Health Center with the intention to utilize structural corrective chiropractic care based on the most current techniques, research and technology available. Serving people of all ages, the couple look forward to working with a variety of patients, including families, athletes and children.
"We are excited to meet you where you are at in your health journey and help transform your health," says Dr. Tiffany. "Our team is dedicated to making sure that you feel cared for and experience the best health. We will do whatever it takes to help you reach your full God-given potential and we look forward to discovering and correcting the cause of your problem."
Thrive Chiropractic Health Center can be reached by calling 904-580-6957 or by emailing info(at)thrivechirohealth(dot)com.