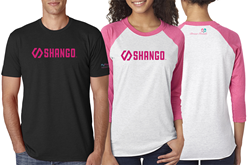 "This is an amazing opportunity for Shango to be able to help out two regional charities with the foresight to recognize the potential benefits of medical cannabis for both pre- and post-surgery situations." said Julie Dubocq, Controller at Shango. "We admire their courage."
(PRWEB) September 28, 2017
The Shango Las Vegas dispensary and all five Oregon locations will be selling co-branded clothing in pink and black to raise money for existing national program support.
Shango Premium Cannabis will be donating 50 percent of net proceeds of sales in each state. Retail pricing ranges from $15 to $26 for hats, T-shirts, socks and beanies.
"Breast Friends' mission is helping women survive the trauma of cancer one friend at a time," said Allison Hancock, event and volunteer coordinator for the Oregon chapter of Breast Friends. "We are thankful for the support that Shango is giving to Breast Friends to raise awareness and help us continue to offer services and programs to women who are going through the cancer journey."
Breast Friends is a nonprofit organization dedicated to improving the quality of life for female cancer patients. The organization teaches friends and family specific ways to offer support, helps them understand what their loved one is going through, and suggests resources for the woman and for those who care about her. A number of programs developed by Breast Friends have proven valuable in assisting and reassuring the patient, her friends and family.
Breast Friends believes that no woman should go through the cancer experience alone. Unfortunately, it happens. Women with friends and family nearby often fail to receive the kind of emotional, spiritual or physical support they need. Breast Friends programs are designed to ensure proper support is given and received. Every woman in America will be touched by breast cancer or other women's cancers in her lifetime. One in eight women will be diagnosed, and the other seven will know her. The goal is to reach the seven in order to help the one.
Breast Friends' governing body is made up of a national board including the two co-founders, executive officers, and board members who also oversee the Oregon Affiliate. The group also has Local Advisory Boards in each affiliate location.
Breast Friends was founded in Oregon in 2000, the first of many affiliates. The group has helped thousands of local patients and their families and is the testing ground for all Breast Friends programs. The Oregon affiliate has a prosthesis, bra and wig closet and offers products free to women who have little or no funds available to purchase them.
Shango will sell the pink and black merchandise at all five retail Oregon dispensary locations. Shango Forest Grove, Shango Hillsboro, Shango Harold, Shango Win Sivers and Shango Molalla dispensaries are participating in the fundraising drive. Those locations also can accept checks made out to Breast Friends.
Shango also teamed up with My Hope Chest, a national breast cancer charity that pays for reconstructive surgery, to help raise funds in their home state of Nevada.
"This is an amazing opportunity for Shango to be able to help out two regional charities with the foresight to recognize the potential benefits of medical cannabis for both pre- and post-surgery situations," said Julie Dubocq, Controller at Shango. "We admire their courage."
My Hope Chest was founded by Alisa Savoretti in the fall of 2003 in Nevada. A breast cancer survivor and Las Vegas showgirl, she was 38 and without insurance at the time of her diagnosis. Following a mastectomy and only five months after finishing her chemotherapy, Alisa returned to the Las Vegas stage and her career as a professional dancer – this time however, minus one breast.
Billing herself as the "Lopsided Showgirl," she shared her personal story and plans for an organization as a result of it, gaining media attention through a news story on the local CBS affiliate. Alisa had to wait nearly three years to acquire her own reconstruction. She discovered a huge gap in treatment that existed for uninsured women suffering from a mastectomy.
"This is a new adventure for My Hope Chest with Shango," Savoretti said. "We understand and support that the healing powers of medicinal cannabis and the benefits in the areas of glaucoma prevention and treatment, epileptic seizures and PTSD have been proven very real.  As a charity that helps women affected by breast cancer, we look forward to the support of Shango Premium Cannabis and are excited to see the future of our charitable partnership."
With the help of members of the NAWBO (National Association of Women Business Owners), My Hope Chest was formed and became a 501c3 in December of 2003, and is the only national breast reconstruction organization working to help uninsured and under-insured women heal completely.
"I realized how my own self-esteem, confidence and self-worth as a woman returned when I could look in the mirror and see my whole 'physical' being once again. It was my healing restoration in body mind and spirit," Savoretti said.
Shango will sell the pink and black merchandise in the dispensary at 4380 Boulder Highway in Las Vegas. Checks also can be donated and made out to My Hope Chest.
About Shango
Shango has cultivation, extraction and production facilities in Oregon, Nevada and Washington. Shango has five recreational and medical marijuana dispensaries in Oregon and a recreational and medical marijuana dispensary in Las Vegas. Shango is a premium cannabis brand offering a full range of award-winning cannabis products including flower, concentrates and cannabis-infused specialties. Performing as an industry leader, Shango upholds the utmost levels of product quality and consistency, and business practices. Shango is a committed advocate for education on the safe and responsible use of cannabis products.
###