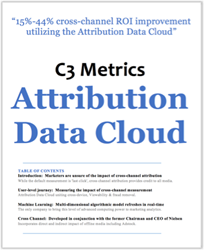 "After hearing Bill Gates espouse the early seeds of Attribution to an intimate audience of advertisers in 2007, I knew Attribution would take hold. C3 Metrics' new Attribution Data Cloud has taken it to a level which now makes it accessible to every part of the ecosystem through its API."
Boston, MA (PRWEB) September 28, 2017
C3 Metrics, the world's first complete attribution platform, today announced the release of the industry's first Attribution Data Cloud, uniting user-level Viewability, cross-device matching and fraud removal across both digital and offline media in a secure data safe environment enabling brands to substantially improve return on their media investments.
Data breaches have company executives and shareholders concerned about unauthorized access of first party consumer data by hackers and competitors (Walmart vs Amazon) and the rampant fraud, cross-channel overlap and lack of Viewability, which according to P&G's Chief Brand Officer Marc Pritchard, wastes 75 cents out of every dollar spent in digital media has forced marketers to rethink their approach to attribution.
Michael Kaushansky, President of Havas Helia, "Even the largest brands have been hacked…Target, Equifax, TJ Maxx, and now data security is a marketing concern not just a technical concern. Focusing on secure cloud platforms that have been proven to protect customer data, marketing attribution data and business data, is of utmost importance."
Seven keys to the C3 Metrics Attribution Data Cloud:
1. Fraud detection and fraud removal (including botnet and affiliates)
2. Viewability detection at the device / impression level
3. Cross-device matching utilizing industry-leading methodologies
4. Unification of user/consumer-level conversion journey with unlimited KPI's
5. Universal ID to combine both digital and offline media journey
6. CRM connector to push or pull normalized data into a brand's data lake
7. API Access
Lee Beale, Managing Director of Crossmedia, whose clients include U.S. Bank, The Hartford Insurance, Advance Auto Parts and White Castle, commented "Many of Pritchard's and the broader industry's concerns are solved with the Attribution Data Cloud from C3 Metrics. For many years, Crossmedia has been planning and executing media in a way unique to the industry by tying clients' CRM data and channel decisioning directly into C3 Metrics' media-agnostic platform."
Ted Moon, principal of Pathfinder and former Director of Capital One and Sprint, "After hearing Bill Gates espouse the early seeds of Attribution to an intimate audience of advertisers in 2007, I knew Attribution would take hold. C3 Metrics' new Attribution Data Cloud has taken it to a level which now makes it accessible to every part of the ecosystem through its API."
ABOUT C3 METRICS
C3 Metrics is the world's first complete attribution platform powered by the only attribution data cloud uniting user-level Viewability, cross-device matching, fraud removal and audience segmentation across both digital and offline media in a secure data safe environment enabling brands to substantially improve return on their media investments. Marketers utilizing C3 Metrics Bayesian machine-learning algorithm realize a 15% – 44% improvement in ROI. C3 Metrics is ranked #1 in the 2017 and 2018 Attribution Vendor Scorecard, the most accurate solution by TBR Independent Research, the Global 250 Winner of AlwaysOn and the Global Winner of the Red Herring 100. As the leading innovator in marketing attribution, the C3 Metrics leadership brings experience from some of the most recognizable brands, including Nielsen, eBay, PepsiCo and DoubleClick. C3 Metrics can be reached at contact(at)c3metrics(dot)com or by visiting http://www.c3metrics.com