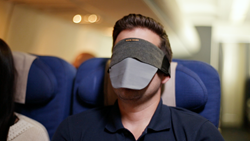 The pull-down mouth mask adds a whole new dimension to the eye mask. It can be a real saving grace for any avid traveler.
Sunnyvale, CA (PRWEB) October 03, 2017
Ever wondered how a sleep mask can help avoid germs when flying, or relieve sore throat when sick?
The magic happens through a unique and patent pending pull-down mouth mask, one of the key features of NAYA Mask. Conveniently stored inside the eye mask, the mouth mask can be pulled down easily to cover the nose and the mouth, which acts as a shield keeping the germs away. Additionally, the mouth mask is made of silver fabric, leveraging the same anti-microbial technology used by the special forces and world's leading athletes. The pull down mask also traps the moisture body exhales, which moistens dry throats to provide relief in case of a sore throat.
The inside of the mouth mask is lined with a mesh fabric for easy breathing. The mesh forms a pouch with the outer fabric, where mild essential oil scents can be inserted for personalized relaxation. The mouth mask unit is detachable for easier cleaning.
Then there is the eye-hug attachment for cooling or warming gel pads to relieve tired and puffy eyes. This modular design offers truly unlimited possibilities for a variety of attachments.
Other key and patent pending features include the soft nose pieces which can be adjusted to provide personalized fit with uncompromising comfort. The minimalistic design facilitates what is known as REM sleep. There are built in pouches in the eye mask for storing those easy-to-misplace earplugs, and a small back pillow to provide comfort while lying down on a harder surface. The mask comes with a comfortable head-band that is wide, stretchable, and uses micro-velcro.
NAYA Mask is ideal for travel and everyday use – sleep, power-nap, jet lag, sore throat relief, meditate, cooling-warming gel attachment, and much more. Numerous studies have found that a good sleep has many positive benefits, while a poor sleep can lead to severe health consequences. Thus sleep is an important aspect of wellness, and a sleep mask can make a difference in the quality of sleep.
"All this started with a time tested age old advice from a grandma – cover yourself completely with a blanket when you have a sore throat", said Tikeswar Naik, co-founder of NadiaLabs Inc.
Designed to be truly multi-purpose, NAYA Mask is sure to fill some void and give you a new sleeping experience. Watch the Kickstarter video for an entertaining presentation of the mask.