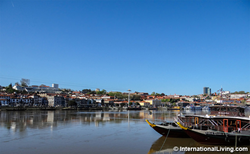 The cost of living was so low compared to the U.S. The climate was perfect, the landscape beautiful, and we could live there without a car
Baltimore, MD (PRWEB) September 28, 2017
It's increasingly popular for young students to take a gap year between high school and college, often to travel and volunteer. (Exhibit A: Malia Obama's pre-Harvard year off.)
But Baby Boomers are giving the gap year a whole new spin.
In greater numbers, they are roving overseas in retirement, living a slow-travel life, spending months at a time in one place and then moving on to another.
In so doing, they're able to avoid the visa hurdles that can go along with seeking long-term residence in a country. Plus, by strategically choosing low-cost destinations, they're able to spend less than they would to stay home.
It's a low-key, travel-rich lifestyle that's easier than ever to put into practice what with online resources like Airbnb, travel-booking sites, and electronic banking easing the logistical challenges of long-term wandering.
"Many years ago, at a college party, I said that I would retire at 50," says Vadim Ponorovsky. And he did. Since retiring two years ago, he has been traveling the world—Mexico, Costa Rica, Italy, Spain, France, Japan, Thailand, and Vietnam, immersing himself in new cultures and making new friends.
After a successful career owning French restaurants in New York, Vadim is now enjoying a more relaxed and fun lifestyle. "Every day is a new experience," he says. "You see something you've never seen, you hear something you've never heard, and you eat something you've never eaten before.
Vadim prefers slow travel, staying as long as his tourist visas allow. "I can stay in a European country with a tourist visa for 90 days, six months in Mexico," he says. "When I get there, I am not interested in going to the museums but in experiencing life and understanding how people live on a day-to-day basis."
And many retirees choose to travel this way alone, just like Kathy L. Hall did. "As I sit at my writing table on my ocean-side veranda, staring at the lapping waves of the Pacific, gentle breezes blowing my hair, I am a 65-year-old, extremely happy roving retiree," she says.
"When I first set off as a roving retiree to Southeast Asia in 2015, I planned to find an affordable place to live and enjoy my retirement. I'd been a working woman all my life and it was beginning to wear on me. I had trouble accepting the idea of working until I died, as living on my Social Security would truly be poverty living in the States.
"The path I've trod across Latin America over the last year or so has been incredibly rewarding. Along the way, I've explored lonely expanses of pristine beach, walked cobblestone colonial streets, and ascended the steps of ancient pyramids. I've enjoyed the glorious greenery and spectacular wildlife of tropical rainforests and experienced the warmth of the local people, as well as the camaraderie of fellow travelers of all ages. And I did it all for just $1,500 a month. And I've traveled solo, attesting to how safe it can be to navigate this region."
Modern conveniences and the internet make it easier than ever for retirees to embrace this roving lifestyle—booking accommodations, researching countries, managing financial affairs, and keeping in touch with the friends made along the way is all simpler and faster than it ever has been before.
Christina and Tim Daggett, from Maine, are currently traveling around Europe on their pension income. They've explored 16 countries so far—all on $2,600 a month.
Their life of travel began in 2009. Tim and Christina moved to Ecuador when Tim was offered early retirement from the postal service. "We chose Ecuador after reading about it online," says Tim. "The cost of living was so low compared to the U.S. The climate was perfect, the landscape beautiful, and we could live there without a car."
Although happy in Ecuador, the couple craved more adventure and decided to tour Europe. "When I started reading about Schengen and non-Schengen countries, I realized this was our chance," says Tim. "We could live in a Schengen country for three months and then move to a non-Schengen country for three months, alternating between the two." (The Schengen area includes most of the E.U., and U.S. and Canadian citizens can stay in these countries for 90 days out of every 180-day period.)
In 2011, they packed their suitcases and went to Budapest, Hungary. "Airbnb was an absolute miracle for us," says Tim. "We can so easily find an apartment, plan our trips months in advance, and have a secure way to pay.
"Don't limit your Airbnb search to one specific city like Paris or Rome. Search within a wide area, or even the whole country in general. We shop apartments first by price, and then we look up what city they're in."
"By doing things this way, we have found so many lesser-known cities that have fewer tourists and have given us a much more authentic experience," Christina says.
International Living's complete guide to Roving Retirement can be found here: Living Internationally: How to Enjoy a Roving Retirement
Editor's Note: Members of the media have permission to republish the article linked above once credit is given to InternationalLiving.com.
Further information, as well as interviews with expert authors for radio, TV or print, is available on request. Photos are also available.
For information about InternationalLiving.com content republishing, source material or to book an interview with one of our experts, contact PR Managing Editor, Marita Kelly, +001 667 312 3532, mkelly@internationalliving.com
Twitter: @inliving
Facebook: https://www.facebook.com/International.Living/
About International Living
For 37 years, InternationalLiving.com has been the leading authority for anyone looking for global retirement or relocation opportunities. Through its monthly magazine and related e-letters, extensive website, podcasts, online bookstore, and events held around the world, InternationalLiving.com provides information and services to help its readers live better, travel farther, have more fun, save more money, and find better business opportunities when they expand their world beyond their own shores. InternationalLiving.com has more than 200 correspondents traveling the globe, investigating the best opportunities for travel, retirement, real estate, and investment.