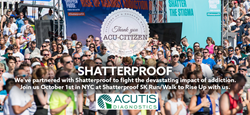 ... We are most inspired by those within our communities who work tirelessly to make their share of contributions to the betterment of society.
East Northport, New York (PRWEB) September 28, 2017
Acutis Diagnostics Inc. is a corporate sponsor for Shatterproof's Rise Up Against Addiction New York 5K Run/Walk under its Acu-Citizens program. Shatterproof is a national nonprofit organization dedicated to ending the devastation addiction causes families. Addiction is a disease which affects 1 out of 3 Americans. The 5K event takes place on October 1, 2017 along the Hudson River Park, and is an opportunity to show those who are dealing with addiction and their families that they are not alone.
Acutis Diagnostics Inc. has a longstanding commitment to stem addiction through the work which they do as a clinical laboratory which specializes in drug testing and medication monitoring. They believe that the work they do each day is part of the solution to the growing rate of prescription drug abuse. However, they are most inspired by those within their communities who work tirelessly to make their share of contributions to the betterment of society.
"Shatterproof exemplifies the type of good work in this important battle against the addiction which inspires us. For this reason, we expect to be a long-term corporate sponsor of this important organization and we hope our involvement will garner additional support for Shatterproof among our clients and partners," says CEO of Acutis Diagnostics, Jibreel Sarij. "We are thankful for Acutis Diagnostics' corporate sponsorship. Whether it's opioid abuse or illicit drug usage, we are facing a public health crisis. The support from professionals such as the Acutis team emboldens us to continue the important work we do."
Acutis Diagnostics is a fully accredited clinical toxicological laboratory licensed under the state of New York's CLEP program. The laboratory performs medication monitoring tests on urine and oral fluids. Their clients include major hospital groups, pain management practices, substance abuse programs, general practitioners and psychiatric practices, amongst other specialties. They strive to exceed standards of testing for drugs of abuse and medication monitoring, provide exceptional service and work with the highest levels of ethics.
To sign up to participate in Shatterproof's 5K run/walk or to donate to Acutis' sponsorship campaign, please visit the following link: https://5knewyork.shatterproofgetinvolved.org/acutis-diagnostics