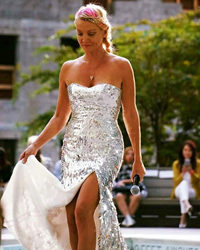 It is more than just a show, it is the total experience before, during, and after.
New York, NY September 29th 2017 (PRWEB) September 28, 2017
Designers from around the globe, including the US, can now look forward to a different fashion show platform that is accessible, inclusive, and visionary yet still understands the need of editors, buyers and media. With a social media presence along with direct to consumer marketing strategies, combined with experiential PR, The Journey Fashion Festival is a one stop shop for designers.
"I wanted to do something totally different and something that would bring back glamour, excitement, and sexiness while totally reinventing fashion week," says Malena Belafonte, the founder and creative director of The Journey Fashion Festival, "A fashion show is supposed to take you on a journey through the inspiration of the designer. But to me a show is also supposed to ignite all of your senses and that is why our format is very different. It is more than just a show, it is the total experience before, during, and after. That is what makes it a festival and that is what makes us different. There is a little cirque, a little Broadway, dancing, acting, and lots of fashion. We don't just take you through the designer's journey, we also take you though ours and somewhere in there, you might even recognize parts of your own journey."
The Journey makes a point out of catering to both editors, the press, buyers, as well as consumers. Editors were treated to a one of a kind evening on the last day of New York Fashion Week. The Journey partnered with FlyNYON, an innovative, branded aviation services company that bridges the worlds of flight and media. Editors and press were whisked off by helicopter to a secret location that turned out to be the new FlyNYON headquarters where they were treated to a cocktail reception, virtual reality experiences, and a fashion show that had everyone gasping when a chopper landed and out came models wearing nothing but lingerie and diamonds. Buyers and consumers, along with media and VIPs, were treated to a smorgasbord of fashion and entertainment at Mercedes Club. The luxurious club hosted 600 guests who were invited to an outdoor show filled with cirque artistry, hop hop dancers, and singers while a plethora of beautiful designs came at them from every angle. The Journey gives people an experience that is beyond what Fashion Week has been until now.
"Obviously, there will always be the showformat that has stood the test of time, because it is necessary and needed and I have deep respect for that formula and for those producers and designers that rely on those kinds of shows. But that is not who we are, says Malena Belafonte, "we don't mind that it takes people a little while to grasp exactly what we do. We are innovative, outside of the box producing, new thinking, with a little bit of a crazy creativity level, and a track record that includes years in production, showbusiness, fashion, and entrepreneurial quests. We appeal to those designers, brands, and sponsors that dare to dare and those who need a sparring partner. The Journey is reminiscent of a touring show, playing on the intrigue of the circus. You can't help but wonder what it is like to have that freedom, that talent, that creativity, that team work, and perceived lack of structure except when it is showtime. We bring that with us and insert it into a very structured formula and that is what The Journey Fashion Festival is all about."