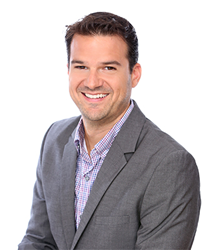 Stamford, Conn. (PRWEB) September 28, 2017
William Pitt and Julia B. Fee Sotheby's International Realty announced today that Lance Pendleton will now serve as Chief Innovation Officer, a new role created to strengthen the firm's focus on innovation both within the company and for its clients. Pendleton initially joined the firm in the summer of 2015 as Director of Education and Training, and was promoted to Vice President of Sales Development and Education in 2016.
As CIO, Pendleton will lead the company's efforts to meet the ever-changing needs of agents, buyers and sellers by staying ahead of the curve in all facets of real estate, from communications to brick-and-mortar spaces to developing and implementing the next generation of technological tools for the company.
"My objective is to cultivate an environment where clients, as well as the best talent in our field, clearly see our competitive edge and how we can offer them the most exceptional experience," Pendleton said. "I look forward to helping create more revolutionary programs and services, and developing exemplary agents who are committed to keeping their attention on what our clients expect of a real estate professional."
The company has maintained a focus on innovation in recent years, creating a website that was recognized in August as the #1 Best Designed real estate site in the country by the trusted real estate news source REAL Trends. Pendleton has been responsible for exploring partnerships with companies that offer forward-thinking real estate products and then instituting those products, such as a new online training platform on the company's intranet site that consists of over 100 courses for both new and experienced agents.
Most recently, he played a key role in helping the company's corporate team launch a centralized system for generating and handling leads and client relationships, known as "Client Connect." The system includes Contactually, a powerful communications platform that helps agents stay in touch with new and existing connections.
Pendleton will continue to hold a training and education role with the firm as well, helping sales associates increase their facility with the company's exclusive offerings while optimizing their own skills to best meet the needs of today's real estate consumers.
"The Chief Innovation Officer's core responsibility is to ensure we continue to stay on the cutting edge in an industry that is evolving faster than ever. Developing superior solutions like Client Connect and partnering with game-changing companies like Contactually allows us to do just that," said Paul Breunich, President and CEO of William Pitt and Julia B. Fee Sotheby's International Realty. "The ultimate goal is to deliver the type of service our agents and clients deserve, exceeding expectations in the process. I am excited for Lance to continue building on the momentum of our recent advancements."
Prior to joining the company, Pendleton gained 15 years of experience as an educator of corporate employees, business development coach and speaker, with training roles at three Fortune 500 companies including Apple.
Lance Pendleton can be reached via phone at (203) 644-1477 or email at lpendleton(at)williampitt(dot)com.
###
About William Pitt and Julia B. Fee Sotheby's International Realty
Founded in 1949, William Pitt and Julia B. Fee Sotheby's International Realty manages a $3.9-billion portfolio with more than 1,000 sales associates in 26 brokerages spanning Connecticut, Massachusetts, and Westchester County, New York. William Pitt and Julia B. Fee Sotheby's International Realty is the largest Sotheby's International Realty(R) affiliate globally and the 31st-largest real estate company by sales volume in the United States. A full-service real estate firm headquartered in Stamford, Connecticut, William Pitt and Julia B. Fee Sotheby's International Realty provides ancillary services including commercial services through its affiliation with Building and Land Technology, a second-generation development company based in Stamford, Connecticut; William Pitt Insurance Services; and an award-winning global relocation division. For more information, visit the website at williampitt.com.
Sotheby's International Realty's worldwide network includes approximately 21,000 sales associates located in over 900 offices throughout 68 countries and territories.