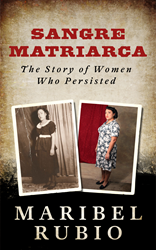 "Sangre Matriarca is the story of all our abuelas and mothers. It takes us back in time and gives us a rare glimpse into the lives of the women who existed before we loved them. It's a beautiful celebration of who we are and where we come from." Ofelia Faz-Garza, Poet
El Paso, Texas (PRWEB) September 29, 2017
About the Book:
Chuy is a young and naive woman from a small town in Mexico in charge of the well-being of her younger siblings after her mother died in childbirth. Later, as a teenage wife and mother, two consecutive tragedies leave her without much hope for her future unless she emigrates to Ciudad Juarez. Believing she is in charge of her life and seeing a bright path ahead of her, she enthusiastically prepares for whatever life throws at her. She soon finds love, betrayal, loss, and ultimately a family of her own which proves to be the pillar of her love and continued strength through her journey.
Elena is a young woman in another small town in Mexico who is trapped in a relationship with an alcoholic abusive man. She is forced to learn how to survive a life of abuse and neglect. A strong-willed woman who tries to help her children endure their childhood after having responsibilities no young child should have to worry about. After moving to Ciudad Juarez, Elena finds strength and independence once she feels her children are old enough to be safe by themselves.
Chuy and Elena cross paths in their new home and their families become one when two of their children fall in love.
About the Author:
Maribel Rubio is a Chicanx writer and social justice activist. Born in El Paso Texas, she is a first-generation Mexican-American. She received a Bachelor's degree in International Business from the University of Texas at El Paso. Maribel owns a vegan and vegetarian food truck in the Dallas/Fort Worth area where she currently resides. In her free time, she loves to travel and explore nature through hiking and camping. Usually, Maribel is accompanied by her dog, Marvels. In addition to having a short story and a poem published in the book, Stuff I Never Told Anyone: Finding Power in the Shadow of Shame, Maribel is currently working on her second novel.
Website:
https://www.maribelrubiobooks.com/
Instagram:
https://www.instagram.com/maribelv78/