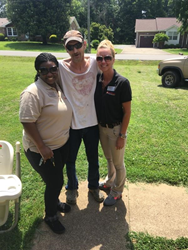 We're immensely proud of Toribia and Sherry for this act of compassion.
Nashville, TN (PRWEB) October 05, 2017
Sherry Haney and Toribia Smith, two employees of Nashville-based financial services company Advance Financial, embodied the company's commitment to its local communities by arranging a generous donation for a local veteran in need.
After coming into the Clarksville Advance Financial location where they both work, an aging veteran expressed concern about the status of his living conditions. It was his mention of a lack of air-conditioning in the sweltering summer heat that caught the attention of Haney and Smith.
"Both Sherry and I knew from the way he was speaking about his home that he was in a tough spot," said Smith. "It was hard to hear, especially when it came down to the lack of proper air conditioning at this time of year, so we decided to do something about it."
Together, the two employees aimed to figure out a fix for the veteran's living conditions. They began asking around town for a possible donation, and approached a manager at a local Lowe's store about a donated unit. He accepted and gave them a unit free of charge.
The A/C donation wouldn't have been complete without a delivery, noted Smith and Haney. So the two women packed it up and surprised the man at his doorstep, unit-in-hand.
According to Smith, the man was immensely thankful. "He was in tears and we were in tears. We're just happy that he's in a better situation now."
"We're immensely proud of Toribia and Sherry for this act of compassion," noted Tina Hodges, CEO and chief experience officer for Advance Financial. "We encourage our employees to go above and beyond for customers, but I have to say – this will be tough to beat."
To learn more about Advance Financial's FLEX loan program, visit here.
About Advance Financial
Advance Financial, founded in 1996, is a family owned and operated financial center based in Nashville, Tenn. The company currently operates more than 70 locations throughout Tennessee and employs more than 700 local representatives. By focusing on a wide variety of financial services – including wire transfer, bill payment, unlimited free money orders and FLEX loans – they are committed to building long-lasting, strong relationships with every customer. Advance Financial recently earned an A+ rating from the Better Business Bureau and was named to the Inc. 5000 list of the fastest-growing private companies in the country for the sixth year in a row.