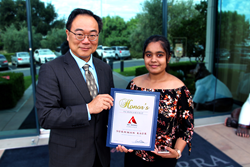 MONROVIA, CA (PRWEB) September 29, 2017
Sukhman Kaur had a dream of one day attending college. Her cousin, who studied Information Technology at Mt. Sierra College recommended she look into their business program. After speaking to an Admissions Advisor she found out she qualified for an honors scholarship. Her GPA from Duarte High qualified her for a full scholarship at Mt. Sierra College.
Sukhman said, "I'm so happy to be able to attend college and I'm looking forward to getting to know the faculty and meeting other students. I plan to study hard every day, between 4-5 hours so I can keep my grades up. I want to major in business and go into marketing because I like communications and I have a very creative side as well." It's true, Sukhman has won awards for her art in India where she lived until last year. Her father Gurpreet was an entrepreneur in electronics in India and always dreamed of bringing the family to America so they could attend school here. Now that dream is a reality.
For Rudaina Brown, who also received a full Honors Scholarship, academic achievement runs in the family. Her mother is a medical doctor and the Dean of Los Angeles ORT College. She encouraged Rudaina to excel in school and her high grades have earned her a full Honors Scholarship at Mt. Sierra College. Rudaina, who graduated from Ruben S. Ayala High School in Chino Hills plans to major in business and is a creative writer at heart. After she graduates with her Bachelor of Science degree in Business, she plans on using her writing skills for marketing. Her brother, Rudaine will also be attending and is enrolled in the Game Arts program. Rudaina's academic record gained her acceptance letters from several colleges but she chose Mt. Sierra because of the supportive environment, personal attention that every student receives and the opportunities for networking.
The College's third Honors Scholarship recipient for fall 2017 Quarter is James Castillo. James is a returning student who loves to learn. He's transferring credits from Pasadena City College to Mt. Sierra College and will pursue his Bachelor of Science Degree in Information Security. Currently he's working in the field of information technology at Tommy's where he is IT Systems Administrator. Though his interest in computers started when he was in third grade, he initially had studied nursing. He also has a strong interest in filmmaking and in his spare time is working on an environmental documentary about the decline in mangrove forests. After looking into education options, James chose Mt. Sierra because he "wanted a structured environment with knowledgeable faculty that could guide him" as he applies what he learns to real-world situations.
One thing that sets Mt. Sierra apart from other colleges is life-long learning. Life-long learning allows graduates to return to take classes (tuition free) to keep their skills current. Many fields, especially technology based fields, change so fast that being able to stay current is not only important but necessary. In addition to providing help with job placement, life-long learning is one of the ways Mt. Sierra College continues to provide value to students even after they graduate.
In addition to the Honors Scholarship, Mt. Sierra College is offering a Special Opportunity Scholarship that can cut the cost of attending college in half for those who qualify. The Special Opportunity Scholarship is only available to new students starting Mt. Sierra College Fall Quarter, October 9. "We are fortunate to have a board that supports us in providing additional scholarship opportunities to deserving students," President Eric Tao said. For more information visit: http://www.mtsierra.edu or call (626) 873-2100
Mt. Sierra College
Mt. Sierra College is located in Monrovia and offers Bachelor Degrees in Game Arts, Visual Design, Business Administration, Computer Information Technology, Information Security and Network Communications. Students enjoy small classes and personalized instruction from dedicated faculty in a state of the art learning environment. The college was founded in 1990 and is accredited by the ACCSC which is recognized by the U.S. Department of Education as a national accrediting agency.