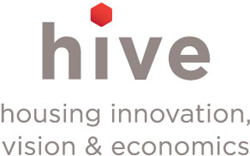 "We are thrilled by the depth and quality of leaders who are joining our HIVE panels this year," said Peter Goldstone, CEO, Hanley Wood.
Washington, D.C. (PRWEB) October 02, 2017
Hanley Wood announced today the itinerary and panelist lineup for its second annual HIVE conference, highlighting the intersection of housing, innovation, vision and economics. Bringing together the brightest minds and talents to address the challenges in housing, HIVE 2017 will act as an incubator of forward-looking ideas, inspirations, and inventions that will enhance the way builders, architects, land developers, and place-makers think and work.
HIVE, which will take place in Los Angeles from December 6-7, 2017, is an unparalleled opportunity to connect and network with an exclusive lineup of C-suite, thought-leaders, policy makers and game-changers from an array of industries. The two-day conference will concentrate on five forces transforming the housing industry: Design, Building Technology, Strategy, Intelligence and Capital. Details on panels and participants include:
Design: Led by Carlo Ratti, Director of MIT Senseable City Labs and founder of Carlo Ratti Associati, the Design Panel will explore how devices that sense our every behavior will transform home design in the future. Participants on the panel include William McDonough, co-author, Cradle to Cradle: Remaking the Way We Make Things; Adrian Foley, COO, California, Brookfield Residential Group; Serene Al-Momen, co-founder and CEO, Senseware.co; and Jerry Paffendorf, co-founder and CEO, Loveland Technologies.
Building Technology: Jason F. McLennan, founder of the Living Building Challenge, explores how technology's exponential advance transforms what we dream of having in our homes into what we can and must have. Joining him on the panel will be Ben Skoog, Vice President, growth and innovation, LP Building Products; Lee Clark-Sellers, innovation officer, Ply Gem Industries Inc; Dana Pillai, executive director, Well Living Lab; and Mike Schlegel, Partner, Bozzuto and Associates; President, Bozzuto Construction Co. at The Bozzuto Group.
Strategy: Maura McCarthy, cofounder, VP market development, Blu Homes shows that trust in a new blend of engineering, finance, design, distribution, and data can break outdated practices and, finally, evolve models of construction cycles and workflows. A new technology-enabled model will help to attract the new talent the industry needs to achieve improved productivity. Panelists will include Steve Glenn, CEO, Plant Prefab and founder, managing director, Living Homes; Mark LaLiberte, principal partner, Construction Instruction; Andrew Salzberg, head of transportation policy and research, Uber and Pat Hammil, CEO of Oakwood Homes.
Intel: Which data insights are the ones to bank on? James Chung, President of Reach Advisors, explores the critical role data plays in making intelligent, real-world assessments and developing more precise and effective game plans. As companies rely on data to make decisions in investment, design, construction, engineering, purchasing, marketing and customer care, it becomes evident that relied-upon data-sets and reliable data are two entirely separate animals. Joining him on the panel will be Jeff Handlin, President, Oread Capital & Development; Ivy Zelman, CEO, Zelman & Associates; Paul Johnson, senior vice president, community development, Rancho Mission Viejo and Issi Romem, chief economist, BuildZoom.
Capital: Can crowd sourced finance help solve the housing affordability crisis? Innovation makes traditional financial institutions uncomfortable. Eve Picker, founder of Small Change, challenges us to think about emerging sources of financing that can pave the path for new, true innovation in housing that previously was blocked by conventional regulations. We will also hear from Eric Wu, CEO, Opendoor; HB Siegel, principal investigator, Department of Ideas, Amazon; Yusef Freeman, Managing Director of McCormack Baron Salazar and Brent Gaisford, Director of Abundant Housing LA, and COO and co-founder of Treehouse Co-Living.
"We are thrilled by the depth and quality of leaders who are joining our HIVE panels this year," said Peter Goldstone, CEO, Hanley Wood. "The second annual HIVE Conference is shaping up to be our most ambitious and energizing event yet, and the conversations and interactions there will give attendees the tools and ideas to effect positive change in their careers and the industry."
HIVE 2017 is supported by title and underwriting sponsor, Ply Gem, and founding sponsors, Electrolux, Kohler, Louisiana-Pacific and Samsung. To register or for more information about the conference, please visit the website.
ABOUT HANLEY WOOD
Hanley Wood is the premier company serving the information, media, and marketing needs of the residential, commercial design, and construction industry. Utilizing the largest analytics- and editorial-driven construction industry database, the company provides business intelligence and data-driven services. The company produces award-winning media, high-profile executive events, and strategic marketing solutions.