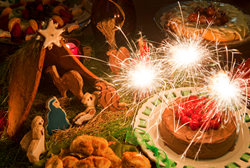 Empty nesters adore the southern sociability and will welcome the holiday travel lodging deal in Savannah, Georgia USA at Green Palm Inn.
SAVANNAH, Ga. (PRWEB) October 19, 2017
Savannah's sociable and heritage celebrations flow steadily during late autumn and early winter. It's cooler and less crowded, too. Holiday travelers can feast for Thanksgiving, take in historic churches to worship with deepened holiness of Christmas, hear church bells pealing and watch fireworks to usher in the New Year, get away for a lovers' Valentine Day, and frolic in the Irish festivities of the St. Patrick's Parade.
With a reputation for friendly welcome, Savannah invites culture travelers and tourists to join in local celebrations. "Savannah and Green Palm Inn make for the popular pairing for a late autumn and early winter meet up spot, especially for traveling empty nesters, friends and family," suggests the energetic innkeeper, Diane McCray Crews at Green Palm Inn.
The innkeeper's two getaway deals – between Thanksgiving and Christmas 2017, and again during January 2018 -- make a Q4 holiday escape more appealing. Stay two nights, get a 3rd night free-- Sunday-Thursday, between November 25 and December 14, 2017. The Sunday through Thursday deal is available also for an early winter mini-vacation in January 2018. Book direct with innkeeper Diane Crews for these cozy, late fall and early winter getaway deals -- 912-427-8901.
Historically, in late autumn the plantation gentry and Savannah aristocracy would be socializing with fox hunts plundering through newly harvested fields, complete with Hunt Board buffet vitals and socializing beneath the trees. Today charcuterie and cheese boards are hip in the historic city, whether dining al fresco at street cafes or fine dining restaurants that boast fresh, local and seasonal farm to fork fare.
Social Savannah today seamlessly blends elements of elite society with an unceremonious, laid back coziness. The southern city's legendary friendly welcome and cosmopolitan flair are hallmarks in Georgia's hip and historic first city.
"It is difficult to spot old money Savannahians in public," states Diane. "One might mistake the seersucker clad Savannah Dan as an aristocrat, crisscrossing the downtown district on his walking tours. A couple of real clues to the understated old society would be their quiet, polite demeanor that includes a courteous, knowing smile and a nod of welcome to passing strangers."
"Get away! Jingle through Savannah's winter social season to remember," says innkeeper Diane McCray Crews. "Yes, we love authentic travel, and I join the chorus of 24/7 hospitality ambassadors who are happy to claim that 'Jingle Bells' was written here by John Pierpont Jr. At the time, Pierpont was the minister of the Unitarian Universalist Church of Savannah, affectionately called "the Jingle Bells Church" by tour and shuttle guides.
Yes, even Green Palm Inn's gal from Michigan has a love for Savannah, adoring and adopting the ways of southern storytelling and hospitality. Who knew? Among Savannah's long list of firsts, one overlooked. The Savannah Debutante Ball was held in the Winter Social Season 1817, making it the first, anywhere in the USA.
The social season opens pre-Winter 2017 in mid-November 2017, and continues until Lent 2018. (Lent starts Wednesday, February 14 and runs through Thursday, March 29, 2018. (Once called "Lent", the first day of spring 2018 is March 20.). "Those are ideal months to celebrate life and party. Take in Veterans Day, Thanksgiving, Christmas, Epiphany (January 6, ending the twelve days of Christmas) to Valentines, Georgia History Day, and St. Patrick's Day festivities in Savannah," the favorite-aunt-like innkeeper encourages.
If special events are the icing on the cake you desire, Green Palm Inn has recommendations of what to do.
Today the southern city's legendary spirit of conviviality and sociality continue. Start early with the Savannah Film Festival and receptions (October 28 – November 4, 2017). Then, have a go at Savannah-style sports, literature, art, architecture, and storytelling.
High society events prevail – attended and supported by Savannah's first families' posterity and newcomer philanthropists. High profile events include Historic Savannah Foundation's annual gala (October 21, 2017), Georgia Historical Society's Trustees Gala (February 17, 2018), and the annual Telfair Museum Ball (February 24, 2018).
Eager for a unique ideas for oh-so-Savannah Christmas stocking stuffers? Check the Ray Ellis Gallery for note cards, the newly released "Cook & Tell: Recipes and Stories from Southern Kitchens" (Food and stories from the American South) cookbook by Johnathan Scott Barrett. The cozy favorite, E. Shaver Bookseller on Madison Square, will have top local books that are spot-on recommendations.
Time-travel enthusiasts and lovers of wandering on and off the beaten path will adore Savannah! A lodging deal, too!. Active travelers and gardeners adore the walkable and welcoming landscapes to revitalize the senses. The mild outdoors in winter!.
Munch with passionate dessert makers. Gobble up competitive barbecue, farmers' market peasant foods, and elegant Georgia grown specialties. Lunch on day boat seafood, and hear the heritage and roots stories from farmers and passionate chefs. Worship and dine!
Year around, travelers discover that Savannah entertains with or without events. Participate in Savannah's celebrations as a military city, celebrating early the World War I Bicentennial Check for more about doughnuts and Doughboys.
"Get away to the Softer Side of Savannah,"™ invites Diane Crews at Green Palm Inn. At this cozy inn the sociality of Savannah is mixed seamlessly with amenity-rich, bed and breakfast lodging.
Come to America's most beautiful city! Join the sociable, easy entertaining style of friendly Savannah, Georgia USA.
ABOUT GREEN PALM INN
Featured on Wheel of Fortune, Innkeeper/co-owner Diane McCray Crews touts Green Palm Inn (circa 1897) as "The Softer Side of Savannah" ™ and "Savannah for Dreamers" ™. Originally sea captain cottages, the four-room Gingerbread Classic B&B shares cottage-inn comforts in the quiet of Greene Square's residential neighborhood in the National Landmark Historic District. Fodor's guide calls Green Palm Inn a "pleasing little discovery" and "a little gem of an inn". BedandBreakfast.com named the cottage B&B a top pick for a holiday trip – "Top 10 B&Bs for the Holidays, 2011″. For more information: GreenPalmInn.com; email GreenPalmInn@aol.com, telephone toll free in USA 888/606-9510, local and international 912/447-8901, 548 East President Street, Savannah, GA USA 31401. Twitter @GreenPalmInn, Facebook, and Pinterest.