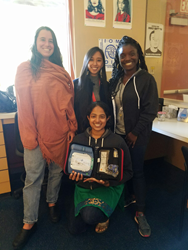 Walnut Creek, CA (PRWEB) September 29, 2017
Destination Wealth Management (through its charitable foundation, Kekokua) has adopted an initiative to give AEDs to schools in need. After conducting an onsite CPR/AED training, DWM was surprised to learn that many schools do not have an AED on site.
DWM (through Kekokua) began this initiative in the summer of 2017, and so far have donated to the following schools: Oakland High School, Bret Harte Middle School, Claremont Middle School, Edna Brewer Middle School, Frick Middle School, Montera Middle School, Roosevelt Middle School, Urban Promise Academy, Westlake Middle School, West Oakland Middle School, Dewey High School, Madison Park Academy, Oakland International High School, Ralph J. Bunche Academy, Melrose Leadership Academy, Greenleaf Elementary, Hillcrest Elementary School, Parker Elementary School, OUSD Health & Wellness and OUSD Enrollment Welcome Center.
"It is Destination Wealth Management's honor to provide a greatly needed device to schools. We believe an AED can be a life-saving positive addition to schools and educational institutions. We are privileged to help in this initiative," as stated by Michael Yoshikami, CEO of Destination Wealth Management.
To date DWM has donated over $40,000 for AEDs in schools. We continue to expand the program and have made it a significant mission to place devices in schools lacking this important medical technology.
To learn more about AEDs and how it can help save lives, please visit the Red Cross here.
About KeKokua:
Michael Yoshikami created the KeKokua Foundation ("KeKokua"), a charitable organization. The KeKokua Foundation was established in 2005 to directly support and foster charities that provide support for educational services, advocacy, resources to the needy in the community. It is through KeKokua that change begins, grows, and endures.
Our mission is offering a caring perspective focused on helping others by acting with kindness and empathy. We seek to provide compassion to those in need. We believe we all have a responsibility to make the world more equitable, accessible, and tolerant. To accomplish this, we work with local organizations to change, empower and improve the quality of life for those needing assistance. Contributions to the Foundation are primarily made by Destination Wealth Management, along with private contributions.
For more information about Mr. Yoshikami, click here http://bit.ly/MYadvisorinfo or for more information about the foundation, visit http://www.kekokua.org.
About Destination Wealth Management:
Destination Wealth Management is a San Francisco Bay Area-based independent money management firm that provides fee-based wealth management services to institutional investors and individual investors.
For more information about Destination Wealth Management, please visit http://www.destinationwm.com or http://bit.ly/dwmadvisorinfo.