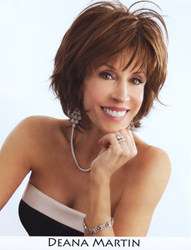 Join me at The Jazz Corner for a ring-a-ding party!
Hilton Head Island, SC (PRWEB) October 02, 2017
It's Dean's birthday but the gifts are all yours as Deana Martin performs hot new arrangements of time honored classics from Dino's songbook: That's Amore, Everybody Loves Somebody, Memories Are Made Of This and more, along with songs made famous by her "Uncle" Frank Sinatra and "Uncle" Sammy Davis Jr.
Deana Sings Dino is classic concert entertainment, incorporating the world's best music, personal and often hilarious recollections from her life and career, interaction with the audience, plus her innate musicianship. Deana Martin is undeniably authentic; a living connection to the greatest era in entertainment.
Deana Martin has become an instantly recognizable voice and figure in the pantheon of The Great American Songbook in her own right. Her 2006 debut CD release, Memories Are Made of This, stayed in the top ten for 40 consecutive weeks. Her follow-up CD, 2009's, Volare, debuted in the top ten of the Billboard charts, followed by 2011's seasonal evergreen, White Christmas, 2013's critically acclaimed Destination Moon and her latest, 2016's Swing Street, garnered airplay on top Jazz, Standards and Country radio stations, emphasizing her prominent status as a hit recording artist.
As a celebrated author, Deana found herself on the New York Times coveted Best Seller list with her 2004 memoir, Memories Are Made of This: Dean Martin Through His Daughters Eyes. In it, Deana shares never-before-told stories about her father and his Pallies. The e-book version returned Ms. Martin to the best-selling book charts in 2015 on Wall Street Journal's roster of Best-selling e-books.
Deana Sings Dino is an unparalleled, once-in-a lifetime entertainment experience; a musical journey celebrating her legendary father on his 100th birthday. This is the music that shaped American musical tastes and popular culture for over four decades.
Deana Sings Dino is a totally engaging, classy and contemporary presentation of the most beloved songs of all time, capturing the swinging sophistication associated with her Dad and the Rat Pack. It's icing on the birthday cake of one of the world's most beloved entertainers.
# # # #
DEANA SINGS DINO
Celebrating Dean Martin's 100th Birthday
October 6th & 7th at The Jazz Corner
Hilton Head Island, SC
Show time: 9:00 PM
For ticket information, please visit:
http://www.thejazzcorner.com/contact/ or call (843) 842.8620; or
http://www.DeanaMartin.com
ATTENTION MEDIA OUTLETS:
Deana Martin is available for print and radio interviews in advance via phone, and for television,
in-studio, while in town.
MEDIA CONTACT:
Rosario Roller
Studio A Productions
E-mail: rosario@deanamartin.com