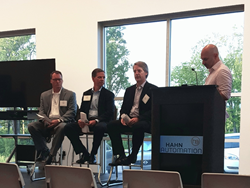 Florence, KY (PRWEB) September 29, 2017
On Friday, August 25th, Tony Canonaco, President of Balluff, Inc., participated in Northern Kentucky Tri-ED's Smart Factory Panel Discussion. Canonaco was joined by John Baines, President of HAHN Automation, and Craig Todd, CEO of Amend Consulting, and moderated by Paul Miklautsch, Co-Founder of Start Something Bold. The discussion focused on how smart manufacturing, robotics, and automation are changing manufacturing in America.
The discussion opened up with the topic of how companies can benefit from automation. Canonaco commented, "If you look at our history, we started as a repair shop for sewing machines, bicycles, air compressors, those types of things. As Balluff progressed, we went into more sophisticated things that would add more value." Canonaco went on to add that automation has created a safer working environment for employees by automating some of the more dangerous aspects of manufacturing.
When asked about the importance of data and analytics in automation, Canonaco responded, "The more data points that you have, the more predictability that you can apply to your processes." In addition, Canonaco stated, "You may already have a lot of data points, so it is important to be smart about what data is the most important to your business."
The panelists were later presented with the topic of how to get more people engaged and interested in manufacturing. Canonaco acknowledged the fact that there are pre-conceived negative notions of what manufacturing is, and how the community views it. He went on to speak about Balluff's activities to improve the image of manufacturing, like an involvement with Manufacturing Day. Manufacturing Day is the first Friday in October where the public and students of all ages can visit Balluff to tour the warehouse, play games, and learn about modern manufacturing. Canonaco stated, "We believe that these kinds of events and activities effect people and help everyone realize what we in manufacturing have to offer as a career path."
To learn more about Manufacturing Day, please visit mfgday.com.
The Northern Kentucky Tri-County Economic Development Corporation (Tri-ED) blends public and private funds to enhance the business climate in and foster regional cooperation among Boone, Campbell and Kenton counties. NKY Tri-ED works to market and promote Northern Kentucky on a national and international basis as a desirable location for new or expanding businesses, and assist existing local companies to expand operations and grow their customer base.
About Balluff Inc.:
Balluff Inc., the U.S. subsidiary of Balluff GmbH, Neuhausen, Germany, is a leading manufacturer of a wide range of inductive, photoelectric, vision, capacitive and magnetic sensors as well as linear position transducers, RFID systems, and networking products. Balluff products for OEM and factory floor solutions are used to control, regulate, automate, assemble, position, and monitor manufacturing, assembly, and packaging sequences for industries including: metalworking, automotive, plastics, material handling, wood processing, aerospace, alternative energy, medical, electrical, and electronics.