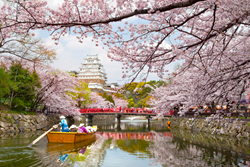 These mesmerizing flowers literally decorate the entire city, especially in Kyoto, where tourists can witness Japan's harmony between culture and nature
Los Angeles, CA (PRWEB) September 29, 2017
Due to popular demand, Charming Travel Destinations offers travelers to book a Japan Cherry Blossom tour now before they are sold out in Japan. The tours are in reaction to the enormous growth of Americans traveling to witness the Japan Cherry Blossom season.
Japan's Cherry Blossom season, from March to May, is one of the most popular seasons for people to travel to Japan. Due to the season's popularity, travel experts recommend planning for the season almost six months in advance.
Japan has been breaking records each year in terms of their tourists. Japan's visitor numbers grew 20 percent from last year's numbers. With the growing popularity of the destination, it is no wonder that some dates need to be booked months in advance.
As the Earth's climate and weather changes, the cherry blossom seasons also seems to differ every year. According to research, the cherry blossom season has been arriving earlier every year and full blooms are now expected to arrive around late March to early April. David Arriaga, Charming Travel Destinations travel consultant, explains that the perfect time to book your tours is within the upcoming weeks.
"These mesmerizing flowers literally decorate the entire city, especially in Kyoto, where tourists can witness Japan's harmony between culture and nature. However, hotels in Kyoto are booked incredibly fast, often times people need to book five to six months in advance," says Arriaga.
Cherry blossoms are not the only feature attracting over 20 million visitors each year. Japan's incredibly diverse culture and market attract people of multiple backgrounds and interests. Some of these interests include food, well-being, anime, music and nature.
As Japan can get very humid, hot and cold, the spring season also provides the perfect weather for visitors to travel throughout Japan.
In addition to guaranteeing your spot in a tour, booking months in advance can provide other benefits as well. For example, many companies offer special "early bird" promotions that give special discounts for early bookings.
Charming Travel Destinations currently offers their Cherry Blossom Tours starting from $2,110, which includes hotels, tours, meals and flights. For more information, please visit https://charmingtraveldestinations.com/tours/japan-cherry-blossoms/
About Charming Travel Destinations
Charming Travel Destinations is a major tour operator in North America arranging exclusive group, independent, student and corporate travels. With over 25 years of knowledge and experience, Charming Travel Destinations promises the best quality performance, service and products in the travel industry. For more information, please visit https://charmingtraveldestinations.com/