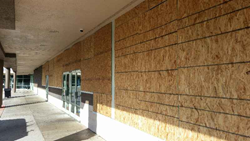 Tampa, Fla. (PRWEB) October 02, 2017
MaintenX International, a Tampa-based facilities repair company, is bringing rapid disaster recovery services to victims of Hurricane Irma in Florida. More than 100 Disaster Response Team technicians are responding to various needs across the state. MaintenX has seen weekly work orders increase by 100 percent since Hurricane Irma's landfall.
"This is one of the biggest challenges MaintenX has ever faced, but we are grateful to be able to help businesses and organizations in our home state," said Bill Schaphorst, MaintenX's VP of Business Development. "We've had many clients thank us for how responsive we've been, but we see it as our responsibility to provide these companies the emergency recovery support they need."
In the days following Hurricane Irma, more than 60 buildings and facilities were relying on MaintenX for their emergency power generation needs. "Everyone wants to get back to normal," said Schaphorst. "We were glad to be in a position to provide some support."
MaintenX International has been providing rapid disaster response to businesses for more than 30 years. Technicians can assist companies by sandbagging and boarding their buildings in preparation for storms, and can respond after natural disasters by surveying property for damage, removing storm preparation materials, and providing emergency power.
For more information about MaintenX, visit http://www.maintenx.com.
ABOUT MAINTENX INTERNATIONAL:
MaintenX International is a fully licensed, facilities repair company. As one of the largest national self-performing facility maintenance and repair companies in the U.S., MaintenX has created a wide network of knowledgeable and professional technicians throughout the country. With their team of well-trained technicians, MaintenX self-performs and manages facility maintenance for their clients. In the event there is not a MaintenX technician in an area, the company has established a network of preferred vendor partners throughout the country for continued superior service for their clients. For over 30 years, MaintenX has been expertly serving multi-location retail stores, restaurant chains and Fortune 500 companies nationwide.