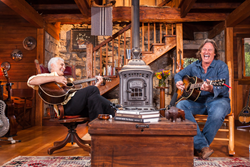 Nashville, Tennessee (PRWEB) October 05, 2017
Nashville's definitive songwriter show is now available for streaming and purchase on Amazon.com.
In his stunning Tennessee hideaway, (nicknamed Barnegie Hall), career singer/songwriter Verlon Thompson trades tales, tunes and "tricks of the trade" with some of the most talented and influential musicians in the world.
This new, laid back 13 part video series features memorable music, meaningful conversation and a laugh or two. And Verlon offers "pickin tips" that will transform any pickers playing.
Hear the songs you love, by people you may not know, but will never forget.
There's a saying in Nashville, it all begins with a song. At Barnegie Hall, the "best of the best" tell their stories and of art and inspiration through intimate, acoustic performances..
Reviews are in:
"I got my copy of Barnegie Hall on Friday. I had an entire afternoon of things to do, but spent the next 3 and a half hours mesmerized by Barnegie Hall. The quality of the production was equally matched by the quality of the talent showcased in each episode. This series MUST and WILL find a larger audience.
-------------------
"I felt I was earning a Masters degree in songwriting and the music business."
-------------------------
About Verlon Thompson:
Verlon Thompson is a virtuoso guitarist, longtime Guy Clark sideman and singer/songwriter. He travels the country like a troubador...but prefers the description "true"-bador. His songs spring from real people and their true stories.
At Barnegie Hall, he reconnects with his many co-writers and collaborators from 35 years on and off Music Row. Like the great Glenn Campbell and Johnny Cash before him, Verlon is a natural television talent, with the ability and sensitivity to play and harmonize with his guests. Every show features one of Verlon's original songs as well.
Verlon has been applauded on stages all over the world and awarded for his songwriting by ASCAP, CMA, Grammy and IBMA. He is a self taught musician who has been called the most well-rounded yet overlooked instrumentalist and songwriter beneath the large Americana umbrella... an electrifying player, and guitarist almost without peer.
Genuine Human Productions:
Genuine Human Productions is an award winning Nashville video production and idea factory. It specializes in storytelling and in all things musical. Directed by Verlon's wife, Demetria Kalodimos, Barnegie Hall is a labor of love produced with the highest regard to quality picture and sound.